Blog
Help Me Alexa, I'm in Pain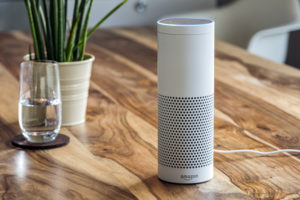 It's part of my daily routine—walk in the door of my Brooklyn apartment at the end of the day and ask "Alexa, what's in the news?" In an instant, I'm caught up on anything I may have missed during the day while I pull out my laptop or unpack my gym bag. Typically at this point I'll start getting dinner ready, which is when I really value the ability to use my voice to check on tomorrow's weather, turn on my living room lamp, play "Africa" by Toto, or put the Yankees game on my TV.
This hands-free efficiency has become familiar to millions of us, to the point where I've looked at what other modern-day tools, tasks, and appliances can be voice-enabled in my home. Fresh brewed coffee just by my asking? Of course!
Bottom line: I'm being coddled by an inanimate object.
Extending the Comfort of Voice Assistants to the Hospital
I've been reading a very insightful book called "The Nurses: A Year of Secrets, Drama, and Miracles with the Heroes of the Hospital" by Alexandra Robbins, which details just how challenging the role of a nurse is. A fascinating part of the book discussed hospitals' efforts to improve the patient experience (and associated HCAHPS scores) through methods not associated with actual patient care. This led many hospitals to game the system to improve patient satisfaction by providing what the patient wants as opposed to what they really need—like complimentary milkshakes for patients on a restricted diet. Robbins goes on to detail how vital yet overlooked nurses are related to patient satisfaction and cites a study that showed a direct correlation between nurses being satisfied with their work environment and improved HCAHPS scores.
While I'm being coddled at home by Alexa, it might be tempting to extend that comfort to the patient room and look for ways to make a patient feel more at home during their hospital stay through voice-enabled requests. This is where hospital administrators need to be cautious that making it easier for a patient to request something could easily result in greater workload for nurses.
Helping to Reduce the Burden on Nurses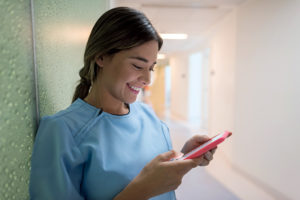 When planning for advances to patient comfort, hospitals need to consider the impact on the nursing staff and figure out a way to improve things on both sides. Simply increasing the patients' ability to make requests isn't the answer. There may be opportunities to use Alexa as a sort of new-age nurse call system, for example, as a voice-to-text bridge between the patient's spoken request and a message that's received on the nurse's mobile device. But even in doing that, there will have to be a means to make sure to triage these requests and deliver them to the most appropriate clinician, and avoid adding to the workload of the already busy nursing staff.
That distinction is critical to the difference in the patient stating "Alexa, I'm thirsty" vs. "Alexa, I'm in pain". The first request, in most scenarios, shouldn't bother a nurse at all and can instead be delivered to a certified nursing assistant. The second request requires the nurse's time and attention so that they can interact directly with the patient to assess their status and pain level, in order to determine the appropriate next steps like speaking with the patient's attending physician for a new medication order. Same goes for requests such as room temperature, meal requests, or issues with the hospital bed adjustment. Tools like Alexa might be able to be implemented to help recognize and triage the patient's need – and its associated priority – and route the request to the person most appropriate for follow-up.  Routing those requests more effectively could really make a difference for patients and nurses.
Voice Assistants Will Transform Healthcare's Internet of Things
There are several other issues that need to be tackled before voice assistants can become integrated into the nurse call workflow and boost patient and provider satisfaction alike, including ensuring its functionality is compliant with HIPAAand other privacy laws, and integrations with other hospital systems. Still, it's exciting to see it on the horizon and being seriously evaluated by technology vendors and leading health systems. John Halamka, MD, CIO at Beth Israel, is optimistic about the long-term potential: "Ambient listening tools probably will replace mobile devices," he told Healthcare IT News earlier this year.
While Alexa isn't the only home voice-activated assistant on the market (Google Home, Apple Siri, and Microsoft Cortana are also making waves), it was first and is used in 10 percent of U.S. households.  It may only a be matter of time before smart speakers appear at the hospital bedside.