Blog
Healthcare's Tipping Point (Mobility for All)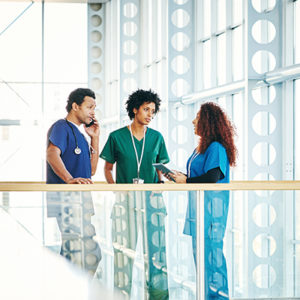 Healthcare is officially on the verge of a mobility epidemic—and that's a good thing.
The industry is at a tipping point for mobile devices, according to a new report by our partner Zebra®, "The Future of Healthcare: 2022 Hospital Vision Study." Zebra surveyed more than 1,500 decision-makers through three global research studies and found that while most physicians and nurses use mobile devices on the job today (51 and 65 percent, respectively), mobile device usage is expected to be universal for both groups by 2022.
This critical mass will have a tremendous ripple effect on quality, cost, and outcomes—it may sound trite, but there really hasn't been a more exciting time to be in healthcare from an advanced technology perspective. More than ever, care team members have immediate access to collaboration tools and other point-of-care resources that interoperate with hospital systems. That means they have at their fingertips smarter notifications and better communications, which lead to improved patient outcomes. Let's unpack what this means by diving into the report.
The Evolving Care Team
Not only is mobile device usage by clinicians expected to grow dramatically, it's also predicted to become pervasive across all members of the care team. This includes care team members at the bedside, like physicians and nurses, as well as pharmacists and pharmacy technicians, lab technicians, therapists, and patient transport. This is great news because delivering the best patient care requires collaboration among all care team members, and this is more easily accomplished if everyone, regardless of their role, has a mobile device in hand equipped to share real-time patient health information and make more informed decisions.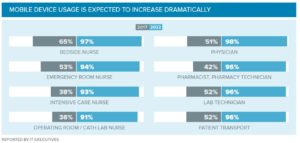 The Rise of Empowered Nurses
As a nurse leader, I was ecstatic to see the report note that respondents expect nurses across all disciplines to become more empowered at the point of care through advanced clinical mobility. Today, many nurses are restricted to using noisy voice badges. If they have smartphones or tablets, they may not have the same access to point-of-care solutions as their physician counterparts. Hospital leaders are realizing that this needs to change. Ninety-seven percent of nurses will use mobile devices at the bedside in 2022, and they will have greater ability to manage alerts and alarms through their mobile devices, including access to patient monitoring equipment, biomedical devices, EHR notifications, and remote patient monitoring and health tracking information.
Spok is making great strides in this area: We've partnered with Bernoulli® to deliver live waveform viewing from mobile devices, providing more complete patient context to the caregiver to support faster treatment decisions. Additionally, many respondents cited plans to rapidly evolve real-time location systems (RTLS) applications. Spok currently supports bidirectional capabilities with RTLS leader Ekahau® to manage duress and man-down events, and RTLS is an area we will continue to explore. We'll be showcasing both the Bernoulli and Ekahau integrations at HIMSS18 in Las Vegas.

It's Your Turn
What do you think is next for clinical mobility in healthcare? It's your turn to tell us what you think: Spok has been conducting a similar survey on mobility trends for nearly a decade, and the 2018 survey just opened. We want to hear from you: What are you doing now, and what do you plan to do, in the way of mobile devices, infrastructure, and access?
The first 50 respondents will receive a Starbucks® gift card as a token of our appreciation! Please take some time to tell us your thoughts now, then look for the insightful results in your inbox this spring.