Blog
The Healthcare Leader Perspective: 2018 Health IT Priorities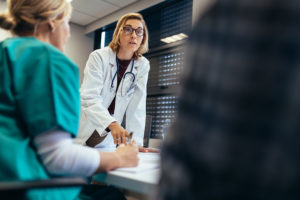 As we move into a new year, there is no shortage of articles forecasting the priorities and trends for the industry in 2018: "Four healthcare technology trends to watch in 2018," "5 health IT predictions for 2018," and "10 trends you can expect from healthcare in 2018" are just a few examples.
The problem with these lists is they are incredibly speculative and often written by journalists who lack day-to-day experience with the issues. They also focus on the "it" technologies of the moment, such as artificial intelligence, the Internet of Things, and blockchain—which while important, are unlikely to move from theory to practice for many healthcare organizations in the next 365 days.
We wanted to see what really is top of mind for healthcare leaders this year. What are their biggest challenges or top priorities, and why are they important? To find out, we spoke with three leaders from top healthcare organizations across the U.S. As you'll see from their responses below, interoperability and the benefits that come along with it—making clinicians' lives easier and reducing physician and nurse burnout—are at the forefront in 2018.
Dr. Salim Saiyed
Chief Medical Information Officer, CaroMont Health
Interoperability has been a hot topic in the industry for years now, but I think it's reaching a turning point and will demand even more focus this year. I think of interoperability not only as making systems smarter and being able to more easily exchange important information, but also how to make the human/computer interaction better and more intuitive. Whether it's the EHR, our Spok® solutions, or any other technology we touch on a daily basis, we want that health IT to make it easier for healthcare providers to do their jobs and deliver high-quality patient care. Frustration with technology is a common contributor to physician burnout—or rather clinician burnout, because it affects more than just doctors. Because of this, enhancing interoperability and simplifying various workflows would boost staff satisfaction in addition to strengthening patient care.
Dr. Chris Snyder
Chief Medical Information Officer and Chief Quality Officer, Peninsula Regional Medical Center
As both a CMIO and a practicing hospitalist, I am acutely aware of provider burnout. It's pervasive across every department and organization I've encountered. I believe healthcare IT has the potential to reduce burnout by making clinicians' lives a little bit easier. Health IT solutions like Spok that can enhance communication among care teams, streamline workflows, and improve efficiencies can add up to minutes or even hours saved in their day. With the right technology, we can help lessen the documentation burden, reduce alarm fatigue, and raise the overall awareness of the treatment team and treatment plan. When clinicians can go through their day without feeling frustrated with the tools they have available, they're happier and can provide better patient care. It's a win-win.
Kelly Howard
Director, SIMON Messaging System and Communications Call Center, Medical University of South Carolina
Interoperability is a part of virtually every conversation, particularly as it relates to the EHR. For us—or any hospital or health system—to stay relevant, we need to figure out how to integrate the other systems we rely on with the EHR. National policies and vendors aren't going to do all the work for us, so that's a challenge we're constantly working to address in new ways. Anytime we propose a solution, we ask "Can it integrate with the EHR?" We also have an expanded definition of interoperability. We call it "clinical interoperability," because it's not just about whether one system talks to another; it's about how we can take important information from messages and pages, put it into the EHR, and make it available and meaningful to clinicians. They have access to plenty of information, but we need to deliver the pieces they need at the right moment to enable them to treat the patient using all the salient data points available.
What's your top health IT priority for 2018? Any must-do resolutions? We'd love to hear from you.