Blog
Healthcare IT's Relatively Brief and Exciting History
Our most popular blog post in Spokwise history is this one on the history of pagers. As the largest paging provider in the U.S., this certainly is nice to see. However, as the global leader in healthcare communications that provides a host of solutions in addition to paging, we wanted to take a deep dive into the history of healthcare information technology.
The advent of Healthcare IT is a relatively new era in the industry, and it's punctuated by significant and exciting innovations in various areas of the field. Here are the nine healthcare IT milestones that we thought disrupted the industry the most: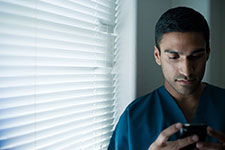 1950s: Pagers change critical communications
The first telephone pager was patented in 1949, and it was first used in New York City's Jewish Hospital starting in 1950. Pagers have since evolved from that first telephone pager to transistorized pagers, tone-only pagers, wide-area pagers, numeric display pagers, alphanumeric display pagers, two-way pagers, and finally encrypted one-way and two-way pagers. At every iteration, pagers have helped advance patient care by providing a critical communications device with unbeatable reliability, speed, and convenience.
1960s: PBXs connect operators, physicians, patients, and families
By 1918, approximately 10 million Bell system telephones were in service throughout the U.S., including at major hospitals. By the 1920s, it was possible to switch large numbers of calls through the use of phantom circuits. The next evolution was a multiline telephone system (MLTS) designed for business: A private branch exchange, or PBX, in the 1960s. This allowed organizations, including large hospitals and health systems, to have extensive systems of telephone lines managed by PBX operators. In healthcare, a PBX operator, more commonly known as a contact center or call center operator, has a wide range of responsibilities, including data entry, greeting patients and visitors, taking messages, triaging, acting as an after-hours answering service, and even launching critical codes.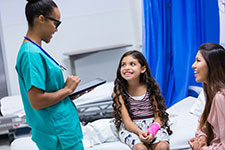 1960s/1970s: The birth of the electronic health record (EHR)
The EHR system as we know it today began to take shape in the 1960s, when academic medical centers began tinkering and developing their own systems. Lockheed Martin was one of the first companies to produce an EHR product, which greatly influenced other systems because it had the processing speed to allow many people to use the system at once. That product has been passed down through other vendors and is actually now part of Allscripts. The largest healthcare system in the U.S., the Department of Veterans Affairs, created their VistA EHR system in the 1970s. VistA is still in use today, although the VA is currently evaluating a commercial EHR replacement. MEDITECHwas founded in 1964, and Epic and Cerner were both founded in 1979.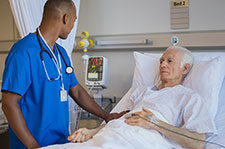 1960s: Patient monitoring devices keep the pace
Today, there are a plethora of patient monitoring devices at the bedside. One of the first was the Holter Monitor, a portable device for monitoring heart activity that was first patented in 1965. It works by recording electrical signals from the heart that are sent via a series of electrodes attached to the chest, which is then analyzed for different sorts of heartbeats and rhythms. The first automatic blood pressure monitorwas also invented in 1965—the automated monitor had no significant difference from manual blood pressure readings, and the 400 doctors who saw it in action at the 1965 American Medical Association convention were amazed. Patient monitoring devices continue to evolve with new technology, including digital signal processing and new sensors, that lead to more accurate vital sign data.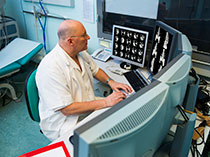 1980s/1990s: PACS pivot radiology from film to digital images 
A 1979 report was the first publication to describe the concept of PACS, or picture archiving and communication system. The first large-scale PACS installation was in 1982 at the University of Kansas in Kansas City. The price tag of the first PACS was in the millions, and it took over a decade for costs to drop and become a practical purchase for hospitals' radiology departments. Additionally, the various players all have proprietary protocols and datasets. It wasn't until 1993 that a full-fledged standard, DICOM, was developed via a consortium of industry vendors, the American College of Radiology (ACR) and National Electrical Manufacturers Association (NEMA). The new frontier for radiology today? Artificial Intelligence (AI).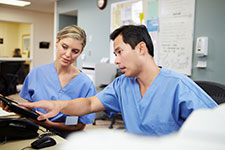 1980s/1990s: On-call scheduling gets smart 
Doctors have essentially been on-call since the profession has been in existence. Today, on-call duties "come with the privilege of practicing in a hospital," according to the American College of Emergency Physicians. Hospitals have managed on-call schedules for their physicians for years via manual processes: from paper to whiteboards to digital spreadsheets. The problem was that even when on-call scheduling evolved to spreadsheets, they changed so frequently that they almost immediately became outdated and required a lot of work on behalf of the call center or individual department to keep them current. When on-call scheduling isn't efficient, scheduling difficulties and wait times go up. And sometimes the right doctor can't be found in an emergency. In the 1980s, hospitals found their solution in software designed for on-call schedules that made the process more automated and efficient. But the real boost came with the advent of the Internet: With web-based on-call schedules, they were up to date across the hospital in real time. In addition, anyone, including the physicians themselves, can update them.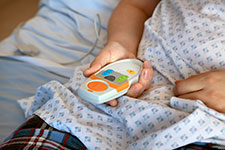 1980s/1990s: Nurse! Nurse call technology puts patients' needs first
A nurse call used to be just that—an actual shout from the patient room to the nurse in the hallway. Eventually, technology introduced the nurse call button, which allowed patients to alert their nurse of their need for assistance remotely. Nurse call communications leader Rauland-Borg entered the space in 1979. The nurse call button typically sent an alert to a central nurses' station, where a nurse or assistant helped triage and respond to requests. With the addition of mobile devices and clinical alerting solutions, that workflow has steadily evolved to where the nurse call request can be sent directly to the device that nurse is carrying and may include additional clinical context to help him or her prioritize the request.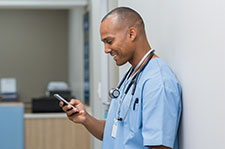 1990s/2000s: Smartphones put apps at our fingertips
Hold the phone—the iPhone® wasn't the first smartphone? That's right. The first smartphone actually debuted more than 15 years before Apple's iPhone: IBM's Simon was the first mobile phone to feature software applications, or apps, making it "smart." Nokia, Ericsson, Palm, and Blackberry soon followed with their own smart devices. However, it was Apple's iPhone launch in 2007 that finally took smartphones mainstream—it was the first to use finger input to interact with the device, versus a stylus or keyboard. Today, four in five physicians (84 percent) use smartphones on the job, and we predict that number to rise not only for doctors, but also for nurses and other care team members.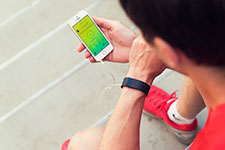 2010s: mHealth apps and wearables take hold
mHealth, or mobile health, allows both providers and patients alike to better manage and track health and wellness-related activities. Smartphone apps, wearables like fitness trackers and smartwatches, and other devices in the Internet of Things (IoT) not only track health vitals and activity levels, but they also can bring greater patient engagement and lead to cost savings. The mHealth market is predicted to have an annual growth rate of 38 percent from 2015 to 2022, and will reach more than $55 billion over the next five years.
What do you think will be next? Tell us on our Facebook or LinkedIn pages. If the forthcoming milestones are anything like their predecessors outlined in the timeline here, then healthcare will continue to see seismic shifts that may be temporarily uncomfortable, but ultimately advance the fie