Blog
Exceeding Expectations: How Clinical Communication Improves the Patient Experience
+ Reflections on the 2018 AHA Leadership Summit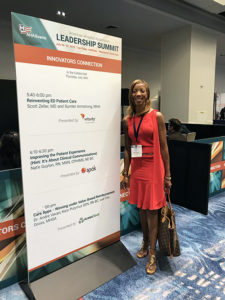 Today's patients expect care to be delivered similar to how they shop online: It should be accessible, personalized, and seamless. Improving the patient experience was a key focus at the American Hospital Association (AHA) Leadership Summit, a thought leadership and applied-learning conference for hospital and health system leaders. This was my second year attending the event, and I reconnected with many people who I met last year.
The event brought healthcare leaders and frontline clinicians from across the country together to talk about the industry's toughest challenges, including how we can start thinking more about patients and their families as consumers. In fact, I had the opportunity to share my thoughts on this topic during a short presentation at the conference.
For those interested (or unable to attend), I would love to reflect on my enriching experiences in San Diego and some of the things I found especially insightful. I will also summarize a few key takeaways from my presentation on the role of clinical communications in the patient experience.
My biggest conference "aha" moment
My biggest aha moment was seeing the number of hospital board members in attendance. We have a very active and engaged board at Spok, and it was great to see hospital board members involved and talking about sustainable quality of care. I talked with several board members who were incredibly familiar with technology solutions that can improve hospital communications. In fact, several board members brought their hospital administrators back to the Spok booth for further discussion. In my experience, good hospital governance drives a commitment to implement high standards of care and clinical excellence, so it was great to speak with those leading their hospital's vision of the future.
The No. 1 trend people were talking about
Whether I was walking the exhibit floor, in a session, or mingling with attendees at the Friday night gala, one thing I heard throughout the conference was how hospitals are transforming healthcare delivery through technology. Telehealth and post-acute care were at the forefront of this discussion. The event was held in late July, just after the federal government announced new rules on how Medicare reimburses providers for their use of telehealth and remote patient monitoring. During the conference, hospital leaders shared innovative strategies, but many questions remain: How does it work? How do we get paid? How do we go about building a program? What states have successfully launched telehealth programs?  How does it fit in the healthcare delivery model? I anticipate we'll continue hearing more about these evolving technologies as care moves outside the traditional walls of the hospital and clinic.
Improving the Patient Experience: 3 Key Takeaways
Before I provide a few key takeaways from my presentation on improving the patient experience with clinical communication, let me set the stage. Today patients expect their care to be well-coordinated, personalized, and accessible. The patient experience (and their satisfaction) is influenced by many factors, but communication is at the core. Yet, we all know that clinical communications are not without gaps and frustrations. So, given emerging patient expectations, how can hospital leaders leverage clinical communication technology to improve patient care, strengthen clinician productivity, and increase patient (and provider) satisfaction?
1. Empower Mobile Care Team Members:
In healthcare, we often see silos of information and communication that don't support the entire care team. Hospitals using a wide range of communication systems limits the ability for staff to cross communicate. This has many healthcare organizations moving to an integrated communication platform that can send the right information, at the right time, to the right users. This type of enterprise solution provides messaging tools for everyone involved in caring for the patient (both clinical and nonclinical). This in turn improves care team collaboration, speeds response time, and helps ensure positive patient outcomes.
2. Speed Response and Cut the Noise
A good way to think about patients as consumers is the adage, "put yourself in their shoes." Johns Hopkins Medicine has reported the average number of alarms per patient per day at over 350. What's more, 90 percent were identified as false-positive among alarms in the pediatric intensive care unit. All of those beeps and buzzes don't support a restful healing environment. The right clinical communication technology can help address this issue. I shared various examples of hospitals who have used clinical communication technology to improve patient satisfaction, such as converting overhead paging announcements to care team messages sent via a secure messaging application.
3. Evolve to a Real-Time Health System
Many in the industry are talking about real-time health systems (RTHS) and the ability for clinical communication and collaboration platforms to support real-time situational awareness and context-sensitive information. The example I often use where timely response is especially critical is sepsis. Most hospitals are focused on this, and some even have dedicated initiatives to improve how they respond to sepsis. As I walked through the workflow shown here, I explained how a communication platform automatically takes an elevated MEWS score captured by the EHR and delivers that alert to the on-call rapid response team's preferred devices, so they can begin intervention right away.
To close, I challenged attendees to again take a walk in the patients' shoes: Imagine you or your loved one is in the hospital, then imagine there is a communication breakdown in one of any number of clinical workflows. Then think about what that breakdown means within your organization. The patient experience includes positive outcomes, but it's also so much more—it's wait times, a quiet and peaceful room, open communication and transparency with the patient and their family members.