Blog
Doing More With Less Requires Mobile Workflow Effectiveness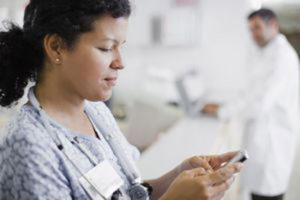 The intense pressures of improving efficiency, driving down costs, improving patient outcomes and generally doing more with less means healthcare organizations today face perhaps their toughest challenges. But I think the concept of 'doing more with less' is inherently flawed. It is imperative to do more, more effectively, with less. Quality matters. When efficiency programs focus solely on removing cost in a process, or speeding things, quality often suffers. Technology is a critical area of focus that healthcare organizations must embrace in order to realize the returns of truly becoming efficient, improving quality, and evolving the programs to offer greater value.
BYOD is an acronym we have all heard for a while now. For some organizations, bring-your-own-device is an opportunity to remove capital expense and improve the user experience (because the technology most people choose as a personal device is of higher quality and greater functionality than corporately supplied hardware).
For BYOD to work successfully, the basic network architecture, usually a robust wireless LAN, must provide ubiquitous network coverage and support a range of devices. Security is often cited as a primary concern in this space, and vendors of content management and mobile device management solutions propose controlling a BYOD device the same as any other device accessing the corporate network. The real challenge healthcare faces, however, is turning smartphones and tablets into healthcare-centric devices so that their functionality makes them a viable tool for the healthcare professional.
A device must be capable of:
Accessing and editing electronic patient records, in real time, in a secure and traceable manner
Integration and communication with other HL7-enabled devices and systems
Providing a communication platform that allows multiple care providers to communicate collaboratively in a secure and traceable environment
Receiving and escalating patient test results quickly
Integration into clinical alarming systems
BYOD policies and mobility strategies need to consider how devices will be leveraged to actually improve communication between clinicians and other stakeholders and be able to provide:
Increased mobility: Information (including clinical alarms) must be available and accessible at the right time, for the right person, on the right device
Streamlined information access: The ability for critical information such as test results to be visible quickly for the providers who need it
Improved patient care: The digitization of forms that were previously on paper so that caregivers can collaborate based on the most updated information
Collaboration: A BYOD policy is pointless if devices cannot pass and access information securely; your platform should offer compliance tracking, security, and access to knowledge references and patient information
Improved productivity: Your strategy has to focus on reducing the manual workload of managing patient information in order to increase the time caregivers spend with patients
The question of what types of systems and information a mobile device must have access to should also be addressed. A device must be capable of accessing and working with:
Drug reference guides
On-call scheduling
Secure communications platform
Electronic patient records and information
Directory services
Critical test results management
Alarms and notifications from clinical systems
The ideal scenario is that a mobility strategy containing a BYOD policy also looks at the underlying communications platform and the integration of every clinical and non-clinical system. The goal is to optimize not the device, but the workflow. This is how healthcare organizations can truly realize the benefits of doing more, more effectively, with less.