Blog
Discussing Clinical Communications with VA Medical Centers at NVSBE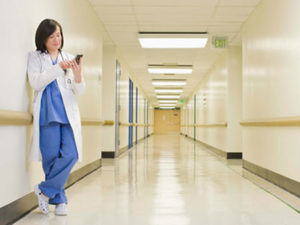 I'm in Atlanta this week for the National Veterans Small Business Engagement (NVSBE) show. The conference is a meeting place for veteran-owned small businesses (VOSBs) to connect with federal agencies, commercial companies, and contractors in the pursuit of partnerships and networking.
Spok is among the group of commercial companies attending. With this being our first time participating at NVSBE, I'm extremely interested in hearing feedback from VA Medical Center (VAMC) team members about the projects they're working on and what challenges they face in improving their workflows. I want to know how we can help them improve their critical communications.
We're also looking forward to spending time with some of our business partners. In addition to strengthening existing partnerships and forging new alliances, the conference will reinforce Spok's commitment to VA health services and supporting outstanding patient care to all those who are serving or have served our country.
While many of our existing VAMC customers use a combination of Spok paging and clinical software applications, we are hearing more and more inquiries surrounding our contact center solutions. Many VAMC's are looking for ways to simplify their call center process by maintaining an online directory of all staff contact numbers. They're also looking for solutions to their on-call scheduling challenges for physicians and nurses, nurse call workflows, and secure, HIPAA-compliant smartphone messaging.
Are you attending the show? What's your biggest communication challenge right now? I am in booth #1026 if you would like to stop by to talk about clinical communications, partnerships, or just to ask a question. If you aren't able to make it to the show, you can visit our website to learn more about our communication solutions for VA Medical Centers, or write to us at inforequest@spok.com.