Blog
Did You Know? 6 Ways to Make Physicians' Lives Easier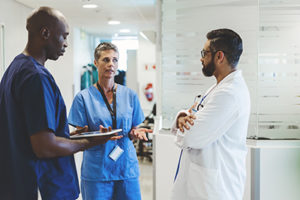 I worked for many years as a hospitalist, mostly on weekends. Every Saturday when I walked in, I knew there would be three challenging tasks. First, I had to review the 12-20 patient charts and formulate a plan to prioritize and systematically see every patient. Second, I had to develop relationships with patients and their families, and often this meant having difficult or complex conversations with them right after I met them. And third, I had to figure out who else was caring for the patients with me, as many of the other providers also changed on Saturday, and figure out how to contact them to discuss our mutual patient's care.
While the first two tasks are inherent to any physician starting a shift, the third challenge was unnecessarily difficult. I've worked with a number of organizations that have greatly reduced the friction in care team communications through technology, process improvements, and communication culture changes.
However, in my almost two years of being at Spok, I'm surprised by how challenging it still is at many organizations to simply identify and communicate with other care team members. The other surprising aspect for me is that many organizations have invested in parts of the solution, such as an advanced contact center solution, but have not yet recognized the dramatic impacts that can be realized by fully extending that solution as part of a communication and collaboration platform.
At the heart of removing the friction in communications, there has to be a single source of truth. This source must contain the following three components:
Enterprise directory: All contact details and communication preferences for every individual and department for the health system are contained in a single directory
Unified communication-focused on-call schedule for all: The single on-call schedule for all removes any barriers to identify who is responsible for a specialty or service throughout the health system
Global access: The directory and scheduling are available to everybody—on the web, via link from the EHR, in the contact center, on mobile devices—in a manner that differentially reveals sensitive contact information depending on the logged-in user.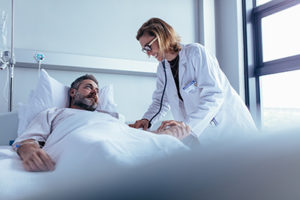 The most successful organizations have recognized that frictionless communication solves many provider and care team problems and can lead to improvements in staff satisfaction and in patient outcomes. Addressing this challenge is best served as a partnership between clinical teams and telecom/IT teams. Successful organizations build on existing investments in contact center solutions such as those that Spok provides. To improve overall health system communications, they extend their investment in those solutions that might have been partially implemented to solve a specific problem many years ago.
The following six items are examples of the friction and frustrations that be can be addressed through a health system approach to communications with a focus on improving provider and care team communications:
1. Eliminate dial 0 to reach the operators
Many hospitals today still have a "dial zero" method for transferring calls: Physicians will pick up the closest landline phone, dial zero, and then wait to be connected or wait for the operator to transcribe a message. This wastes valuable time for physicians and operators alike. Physicians must relay their request, then wait for the operator to make the connection. This means operators are busy fielding a flood of internal calls when they could be assisting patients and families. With web access to your hospital's enterprise directory, you can look up anyone within your organization from your smartphone, tablet, laptop, or anywhere you have browser access, and then call or message them as detailed by their personal contact preferences.
2. Update your on-call schedule any time
Managing on-call scheduling can be a messy process. Practices and spreadsheets may vary by department, and you're never quite sure if you can fully rely on your current version since it may not reflect last-minute changes. When urgent requests are sent to the wrong provider because scheduling information is incorrect, it could potentially result in a delay in treatment or even patient harm. A centralized, web-based schedule that integrates with the enterprise directory makes any changes immediately available to the organization. Juggling multiple physician practice schedules? Spok also partners with QGenda to allow those physician on-call schedules to flow seamlessly into Spok to drive clinical workflows.
3. Look up the right person without knowing their name
As a hospitalist, I often had to look up my colleagues by role rather than by name. Spok makes this easy, as typing in a role into the web-based directory—for example, 'cardiologist'—will bring up all of the cardiologists employed by my organization. From there, I can seamlessly reference the on-call schedules and determine who is on-call now and call them immediately. There's no scrambling to ask a nurse if they have Dr. Jones' number, or stopping by the nursing station or calling the operator to ask who's on-call. I already have that information right at my fingertips.
4. Securely message anyone in your organization from the Web
Ideally, your hospital has a secure messaging solution like Spok Mobile that enables you to safely send PHI to your fellow care team members. But even if your organization has only implemented the Spok contact center solutions of the Spok Care Connect platform, it is relatively simple to deploy Spok's web-based directory to securely message anyone in your organization from your desktop or mobile device.
5. Choose how you want to be contacted by setting device and contact preferences
There's no need to let a personal phone fill up with work messages if that's not how you prefer to be contacted. The enterprise web directory allows you to set your personal contact preferences and update them anytime you'd like. For example, I might say I want you to text my work phone first, then if I don't respond and it's urgent, try my pager. With this model, you can be assured of having a single method of getting in touch with everybody in the health system regardless of their personal device choice and communication preferences.
6. Create a culture of communication and safety through consistent and accurate communications
When you have the technology to enable all of the above, you're establishing and reinforcing a single source of truth for information and giving physicians convenient access to that information. A focus on the culture of communication that takes advantage of technologies can enforce a safe, reliable, structured model for patient communication that ensures information is shared consistently and minimizes the frustration for providers receiving non-actionable or incomplete information.  All of that supports fluid communication—you're more likely to reach out to a colleague if it's easy to do so—and safety, as the reliability of the information supports increased accuracy and speed, both great things for patient care.
Will these steps result in a completely stress-free professional life? Of course not—our work is rewarding, but also inherently intense and challenging. But they will reduce friction, make your day to day a little smoother, and hopefully make your providers happier and ultimately improve patient care.