Blog
Declaration of Device Independence
Throughout 2016 I've had the pleasure of visiting a number of customers to talk with them about everything from improving communications during the admit process, to speeding and streamlining patient discharge. We've talked about how to improve workflows for nurses and send doctors' care orders right to a patient's mobile phone.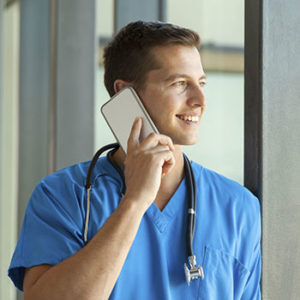 Secure messaging is always at the center of the conversation when talking about clinical communications today. Clinicians—as well as CIOs and other IT leaders—recognize the need to protect sensitive patient information at a time when everyone is accustomed to easily messaging anyone via their smartphone.
This need is reflected in the many vendors out there that offer a secure, HIPAA-compliant messaging app for hospitals. And many of these apps are really good—with attractive, intuitive interfaces, and integrations with a few third-party systems. With so many options in the marketplace, one of the most common, and often first, questions I'm asked by customers is: What makes Spok Mobile® different?
Our customers usually know most of the differences right off the bat if they're familiar with Spok. In addition to meeting HIPAA-compliant communication system standards and securing protected health information (PHI), Spok Mobile has the unique advantage of integrating with their central directory and on-call schedules, and can talk to many clinical systems that providers rely on. However, there's another key difference that often gets overlooked: device independence.
Here's what that means: Most secure messaging vendors offer some great capabilities for delivering messages originating from either an individual or third-party system, such as nurse call. However, this becomes a "closed" messaging system.  This means as a user of these apps, I can only receive messages from other users of the same app. And for third-party integrations, those can only be delivered to people carrying a smartphone running that app. So in the case of nurse call integration, in order for a hospital to benefit from this technology, all nurses would have to have smartphones with that app. Is this viable and convenient for clinicians? Probably not.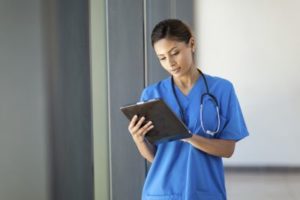 Spok Mobile differs because it's part of the Spok Care Connect® platform, which allows for messaging via many modalities. By integrating Spok Care Connect with third-party nurse call or telemetry systems, we can send messages to whichever device the recipient is carrying—whether that's a hospitalist with Spok Mobile on a smartphone, a doctor with an encrypted pager, or a nurse sharing an in-house wireless device such as the Spectralink PIVOT™. Spok doesn't limit messaging to be only between those on the same app; it's an open messaging environment accommodating all hospital staff members on whatever device they prefer.
In addition to this, Spok can allow for escalations between a user's devices. So while a doctor might prefer that she's notified of a critical test result first via a secure message to her iPhone® , if she doesn't interact with that message in a specified period of time, it can escalate to another of her devices (perhaps an office phone), and then ultimately to another provider altogether.
Hospitals can't afford to limit messaging to a closed environment of only those users of a common app. An open messaging environment is the only true way of improving clinical workflows for all.