Blog
A Constant in a Sea of Change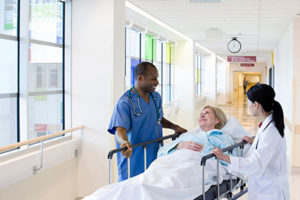 This week, U.S. News & World Report released their 2017-18 Best Hospitals Honor Roll, and Spok is honored to work with all 20 of these distinguished healthcare organizations, as well as the 10 hospitals named to the Best Children's Hospitals Honor Roll in June. On behalf of all 600+ of us here at Spok, our sincere congratulations on leading the country in exceptional patient care.
For five consecutive years, Spok has had the great honor of counting 100 percent of the organizations named to the prestigious Honor Rolls as customers. We never take it for granted that these hospitals and health systems choose us to support their missions to provide the best care to every patient that steps through their doors, and this list of top hospitals becomes more meaningful to us every year. With each passing year, the industry experiences transformational change. From dramatic shifts in policy to cutting-edge technology, healthcare continues to move at a rapid pace, and it's difficult for everyone to keep up. In the face of changing business models, new demands, and technological advancements, these hospitals have a constant—Spok.
The hospitals on this list aren't new to us: We've supported all of them for a number of years, and some for decades. We have a 99+ percent maintenance renewal rate—nearly unheard of in software—because they truly count on us. In some cases, hospitals see Spok as even more vital to their operations than their EHR. A director at a 550-bed hospital in the Midwest said: "We could survive without our EHR for a few hours if we had to, but we don't feel like we could survive even for minutes without Spok."
That is a powerful statement, and we take that trust very seriously. If hospitals rely on us, that means physicians and nurses, as well as nonclinical care team members like contact center operators, housekeeping, and transport staff, also rely on us. If the care team relies on us, that means patients rely on us, too. We have the job of delivering clinical information to care teams when and where it matters most to improve patient outcomes. That's a big job, especially in an evolving environment. But it is one we are absolutely thrilled to have and to which we are fully dedicated.
There's enough to worry about in healthcare without waiting for a test result to post, searching for the right colleague, or wondering if your message was received. When seconds count, count on Spok. We are proud to be the trusted name for healthcare communications, and truly honored to play a small role in the tremendous work these caregivers do every single day.