Blog
The Value of Pagers in the Hospital | Blog
Nearly two years ago, I set out on a mission to improve the quality of communications at Franklin Hospital, a 305-bed facility that is part of the North Shore-Long Island Jewish Health System in Valley Stream, N.Y. We had in-house and wide-area paging systems in place, but we weren't even close to maximizing their potential.  After discussion, we decided it was time to completely redesign these paging systems to assure we were getting the most out of our technology.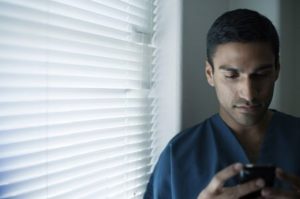 After evaluating possible solutions, we selected Spok's paging and clinical alerting solutions, and we partnered with Spok on the redesign. The results have been tremendous: Spok helped us roll out and distribute hundreds of pagers throughout the facility, and we went live with no issues. People often say that pagers should get replaced by smartphones—and we certainly use smartphones, too—but we love the convenience, affordability, and reliability of pagers in every kind of disaster or emergency situation.
Today, we handle hundreds of messages to pagers seamlessly every day. Not only are these messages delivered quickly and accurately, but they also contain more valuable, actionable information than they were able to before. Our operators and key staff members can now send detailed messages with relevant information to any pager. One of the most popular features is the ability to page anyone, anywhere from a secure web portal. The addition of Spok clinical alerting keeps our physicians, nurses, and other staff well connected and constantly informed of hospital codes and other critical messages.
We're now working on LED message boards throughout the hospital to keep families and visitors informed of important hospital events and reminders. We're also continuing to work with Spok to see how we can send alerts from monitoring and alarm systems right to the pagers of staff who can take fast action.
I've worked with many technology vendors as manager of the communications department at Franklin, and Spok went above and beyond the norm. They provided support every step of the way, and the planning discussions were so thorough—covering every aspect of the project—that it made me more confident about flipping the switch, and also made staff less apprehensive about the change.
What any hospital wants in a technology vendor is a true partner, and Spok has been just that for us. They're invested in improving our critical communications, and they're always ready to jump in and assist. I can't wait to dive into our next few projects and report back on our success.
By Andrew J. Geoghegan
Andrew is manager of the Communications Department at Franklin Hospital and has been with Franklin for over thirty years. He oversees over a dozen operators to handle their daily communications.
About Franklin Hospital
Franklin Hospital has undergone major changes since its inception as a small community hospital in 1963. Today the 305-bed community hospital is a member of North Shore-LIJ Health System and offers a comprehensive array of programs and services to patients from Nassau and Southeastern Queens counties. It has one of the most advanced Emergency Departments in the region and a 21-bed short-term psychiatric unit.