Blog
Connect 18 Recap: New Experiences, Learnings, and Friends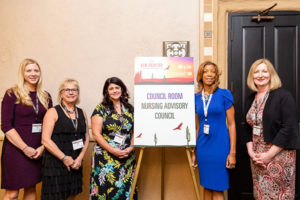 Connect, our annual healthcare customer conference, gets better every year. Since 2007, we've held this event—the "best week of the year," as Brian Edds, vice president of product management, likes to say—and it's evolved from a small gathering in our office outside of Minneapolis to a world-class, must-attend professional conference held in destination cities and attracting more than 150 healthcare professionals.
Connect 18, "The New Frontier of Healthcare Communications" in Scottsdale, Arizona, was the best yet. The learning, networking, and fun was bigger and better than ever, and we also gave our customers a sneak peek at the next evolution of Spok Care Connect.
Don't just take our word for it, though: Two attendees and nurse leaders on the Spok Nursing Advisory Council (NAC), Sarah Cypher, MSN, RN, CMSRN (SC), director of nursing at Froedtert Hospital, and Teresa Niblett, RN, MS, RN-BC(TN), director of clinical informatics at Peninsula Regional Medical Center, took notes throughout the week to share their experiences with you.
How many Connect conferences have you attended? What made you decide to attend this year?
SC: This was my first time attending! I was invited to attend as a Nursing Advisory Council member to share my experience leading a multi-disciplinary team that is focused on improving electronic communication for clinicians, staff, and patients. I decided to make the trip to learn more about new innovations that can help facilitate effective collaboration in healthcare. The warm and sunny location was a nice bonus.
TN: This was also my first Connect. Taking time away from the hospital is always hard—there's always something going on and there's no such thing as a good time to be out—but I knew Connect would be worthwhile because it grants me the opportunity to hear the latest advances in improving communication from Spok, as well as Spok customers (case studies included Bermuda Hospitals Board, Fairview Health Services, Inova Health System, Mayo Clinic, Medical University of South Carolina, PRMC, University of Utah Health, and Vail Health) and partners (Bernoulli, HigherGround, Spectralink, and Zebra). Those learnings and conversations with other attendees are key to bringing back best practices to improve quality, safety, and satisfaction.
What are your thoughts on the new technology that Spok announced at the conference?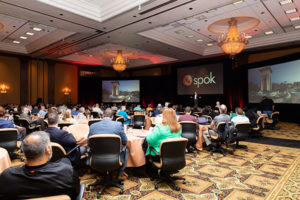 SC: I'm thankful that we work with vendors who are as dedicated as we are to improving healthcare quality and safety. We have to push the boundaries and limits of what's possible. Because we are so busy providing patient care, we need vendors who help us translate ideas into reality. The mission, vision, and values of Spok align with those of Froedtert and other health systems, which is so important. The patient has to be at the center of everything we do, and Spok understands that.
TN: The new technology, which we are actually beta testing at PRMC as a Spok development partner, is so promising. Most importantly, the leaders of Spok have a clear vision to improve clinical workflows using technology. The addition of a new chief technology officer (John LaLonde) with deep healthcare technology experience is a huge win for Spok.
Can you tell us about your experience on the "Improving the Patient Experience With Technology" panel with your fellow NAC members?
TN: It's an absolute privilege to serve on this panel with other nurse leaders. The questions and discussions were stimulating and thought-provoking. We all have similar ideas and approaches to solving our common challenges, but there are always new initiatives and technology use cases, so it's exciting to hear what others are doing.
SC: I enjoyed sharing my thoughts and opinions with the crowd alongside my fellow panel members, and I hope the attendees gained some valuable insight into the patient experience. Healthcare technology in many ways has not kept up with consumer expectations. Patients are exposed to so much technology in other industries. They're beginning to expect the same in the healthcare environment knowing that it can improve efficiency, effectiveness, and communication.
What did you think of the Connect evening events at Desert Foothills and Topgolf?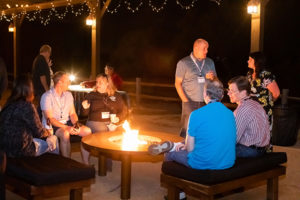 SC: Topgolf was such a great time! I really enjoy the game of golf but rarely get the chance to actually play. I enjoyed fine-tuning my golf swing and hanging out with all of the other attendees.
TN: Desert Foothills was so fun and different—what a stunning place. I loved seeing and learning about Native American culture from the artisans and the hoop dance performance was not only beautiful and impressive, but they also included a great comedy routine to set it up!
What were your biggest takeaways from the week?
TN: The biggest takeaways for me were sharing information about mobile devices and secure messaging, and refining and improving the use case for secure mobile communication among care team members. It was also great to begin thinking about the potential for leading-edge technology, like an AI digital assistant for nursing!
SC: I fully understand why the conference is named "Connect." Everyone was so friendly, and I feel like I walked away with a whole new group of friends that I can call upon in the future. I'm grateful that I was able to share my ideas and thoughts with the Spok crew and my fellow healthcare leaders.
Check out the Connect 18 video recap!