Blog
Connect 17 Recap: A Spok Customer's Firsthand Perspective
Editor's Note: This week's post comes from Cippy Seidler, Consumer Care Center Director at Banner Health. Cippy shares her experience attending Spok's annual customer conference, Connect 17, Oct. 15–18 in New Orleans. Save the date: Connect 18 will be held Oct. 7–10 in Scottsdale, Arizona!
________________________________________________________________________________
Last week, I had the absolute pleasure of attending Connect 17 in New Orleans! This was my fourth Connect conference, and for those who have never attended, this is an opportunity for Spok customers—from C-suite execs to IT staff and care providers—to get together, learn, and improve how we're using Spok solutions at our organizations.
I went to the conference looking forward to networking with peers, hearing about the challenges that others face, and learning how they are creatively using Spok solutions to solve them. Plus, it's always fun to see the Spok staff I talk to all of the time virtually!
Despite being a Connect veteran, I wasn't quite prepared for how rewarding this year's event would turn out to be. I'm eager to share all the details about my experience and personal involvement in Connect 17!
Day 1 – Monday, Oct. 16
I walked into the general session just before 8 a.m. after a grabbing a light breakfast and getting to know a few folks that I had never met. I had already registered and picked up my conference materials during the welcome reception held the night before—complete with a live jazz band and delicious food.
The conference kicked off with three awesome plenary sessions. Personally, I most enjoyed the welcome presentation with Spok CEO Vince Kelly and President Hemant Goel. As a customer, I find it extremely helpful to understand the company's current focus and future direction. I learned about Spok's emphasis on adding clinical expertise to their leadership team, and how they're investing in research and development to stay ahead of market trends.
One of the hardest things about Connect is deciding which breakout sessions to attend. I decided to attend the Spok Directions User Group on Monday afternoon. It was extremely helpful to hear the challenges of other healthcare organizations, and how Spok is helping to solve them. These discussions help confirm that we're not alone—pain points are often felt industry-wide—and also made me feel proud about areas where my organization is ahead of the curve.
Two breakout sessions later, it was time for our evening event to Mardi Gras World. As you can see, it was a memorable and exciting time! The highlight was the bus ride home with the trombone-playing driver—he was a hoot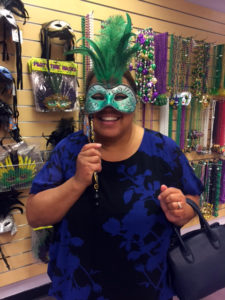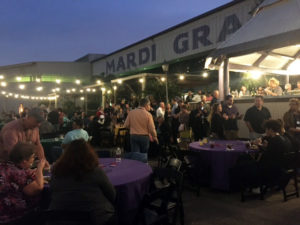 Day 2 – Tuesday, Oct. 17
Day 2 was the big day—I presented the Banner Health case study session! It wasn't my first rodeo; I've presented several times in the past. However, at Connect 17, I was surrounded by some of the most well-known names in the industry, and my audience was composed of talented healthcare leaders.
Despite some nerves, my session went fantastically well. I touched on points that affected many attendees. I think it's important to showcase the benefits of Spok from the patient perspective, such as the elderly patient alone, afraid, and in a room with multiple alarms going off. Clinical alerting can reduce this fear and anxiety by minimizing those alarms and sending them directly to the care team's mobile devices.
Another highlight of day 2 was the breakout session "The Importance of Quantifying your Success." The breakout was a great reminder that if you don't measure it, it doesn't exist! I also learned a great way to determine which workflows at your hospital are ripe for improvement is to look it up on Medicare's Hospital Compare website, which measures everything from ED wait time to complication and mortality rates for specific procedures. You can compare your facility to others in the region or the national average, then target problem areas.
I also enjoyed the exhibitor showcase, which featured leading technology vendors like Bernoulli, Black Box, ConvergeOne, Spectralink, and Zebra. It's easy to get siloed in your thinking, so an opportunity to speak one-on-one with vendors about their technology and its strategic application was valuable.
By the end of the sessions, my brain was on information overload, so I was excited to pop up to my room for an hour before heading out on the town to Arnaud's, a fine dining restaurant in the French Quarter. Not only did we enjoy delicious food and drinks, we also had a band walk us all the way to the restaurant in what is referred to as a "second line parade." What a fantastic surprise—I felt like a celebrity all evening!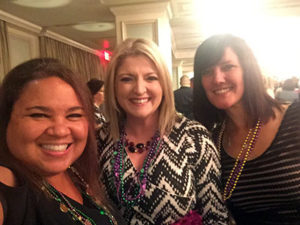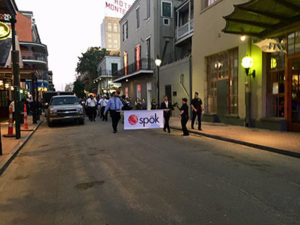 Day 3 – Wednesday, Oct. 16
Day three was just as rewarding! You know what they say about leaving the best for last. Bermuda Hospitals Boardshared how their clinical communications and quick emergency response are critical in providing care to an entire island. Then Hemant was back on stage to close the conference—they even made a Connect recap video showcasing our three days of fun!
Connect 17 was a blast and I learned more than I ever thought imaginable. I highly recommend colleagues consider attending future Connect conferences. It's not just a chance to ensure your hospital is making the most of your Spok investment—it's the opportunity to stay informed, learn a ton of great knowledge, and connect (pun intended!) with industry experts and peers from across the country. Hope to see you at Connect 18 in Scottsdale!