Blog
Closing the Critical Test Results Loop to Improve Patient Care
What happens when a patient goes to the hospital for chest pain and the radiologist sees nodules on the patient's lung in the X-ray? The nodules would be called an incidental finding, unrelated to the diagnostic purpose of the scan. However, these can have serious implications for the patient's health in the near future. If the observed nodule isn't communicated to the patient's doctor, it becomes a missed result.
Eliminating these missed results, as well as speeding the communication of patient test results, is an important initiative for me. Not only do test results play a significant role in meeting the Four Hour rule for emergency departments here in Australia, but delays and missed findings can result in harm to patients, as well as higher costs for hospitals. The biggest opportunity to address the test results challenge is closing the loop.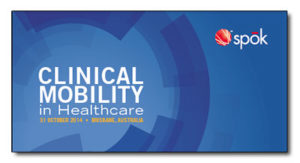 Later this week I'm going to present my work around mitigating this issue at Spok's Clinical Mobility in Healthcare seminar in Brisbane.
Looking specifically at radiology results, there are two important parts to closing the communication loop on test results: Improve the timeliness of image viewing and subsequent treatment planning, and minimizing the potential for missed results.
I started my research in this area by examining the existing process and saw that, on average, Junior Medical Officers (JMOs) were viewing images three hours after they were available. When looking into the reason why, I found the biggest contributing factor was that JMOs were unaware results were ready. After a trial period of paging JMOs with notification of available test results, the time it took from test result availability to JMO review was reduced to an average of 34 minutes – that's an 80 percent reduction. Just by adding that notification step we also saw improved patient satisfaction, better provider efficiency, and decreased waiting times.
I will be providing more details at the seminar, as well as talking about the next steps we can take to continue improving this process for better patient care. If you're in the Brisbane area and would like to attend, I encourage you to register. I hope to see you there!
By Dr. Madusha Chandratilleke, Sir Charles Gairdner Hospital