Blog
Clinical Alerting—A Mobile Advantage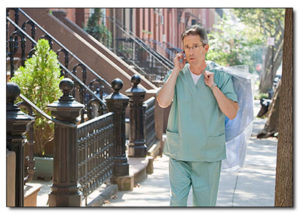 We live in a mobile world.  Much to my wife's dismay, I'm always on my device. So are most of the staff at my customer sites—nurses, doctors, transport teams, etc. Mobile devices have become one of our most valuable tools for their ability to support conversations while simultaneously keeping us informed.
For me, being informed means real-time meeting requests, travel updates, and e-mail and text communications. For healthcare providers, however, being informed revolves around patient care. In just the past 10 years, care delivery workflows have seen significant improvements. Mobile devices let clinicians send consultation requests to each other, ask for information, share patient admit instructions, and coordinate treatment planning. One of the other really valuable ways that mobile devices support the healthcare industry is by communicating patient status updates (and to protect PHI, these communications must be secure).
Within the healthcare setting, whether staff use Wi-Fi phones, voice badges, smartphones, or pagers, the ability to receive patient status alerts and updates can be a big time saver. If an alert reaches the nurse on his or her device during the shift, they can save steps and don't have to go to the central nursing station to triage the alarm. This type of time savings is important not only to the nurse to improve efficiency and spend more time at the bedside, but also because it can mean faster care for patients in distress.
For physicians, automatically getting an update about patient vitals quickly after a significant change is a tremendous improvement over a manual notification process. Integrating alert automation into mobile workflows for staff is truly an advantage.
How is your facility embracing mobile workflows? Is clinical alerting on mobile devices part of your solution? What about centralized staff assignments that allow nurses to log into just one place to receive patient calls and alerts for all of the patients they're responsible for?