Blog
Care in Motion: 5 Benefits of Healthcare-Grade Mobile Devices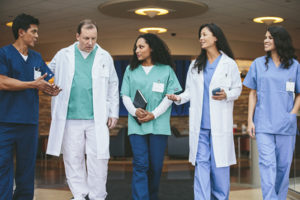 At Spok, we're quite proud of the fact that our clinical communication and collaboration platform, Spok Care Connect, is device agnostic. That means that no matter which mobile devices your hospital supports—or if you're a BYOD organization, which device you personally use—you can securely coordinate care from wherever you are. It doesn't matter if you are using an iPhone, an Android phone, a tablet, a Wi-Fi phone, or an encrypted pager—we cover them all.
That said, all devices aren't created equal. You can eat a cup of yogurt with a fork, but you'll probably be more efficient with a spoon. Similarly, you can use our secure messaging solution any smart device. But if you're a physician or nurse, you're going to be even more effective if you're running the app on a device purpose-built for healthcare, such as a Wi-Fi phone. Hospitals and health systems seem to agree: Support of Wi-Fi phones grew from 63 percent in 2017 to 69 percent in 2018, according to our annual mobility trends survey.
What makes a mobile device healthcare-grade? We're glad you asked.
1. Unmatched voice quality
Was that electrocardiogram, or echocardiogram? When you're conveying information to another clinician about a patient, you can't afford to be misheard. Healthcare-grade phones support crystal clear voice quality, so that you can preserve meaning and avoid assumptions. The superior voice quality also helps support HIPAA compliance and prevent sensitive information from being overheard by others in the vicinity, as there is no need to elevate your voice in order for the other person to hear you. Of course, your colleague's response will not be heard by anyone but you.
2. Rugged durability
A thin case on your smartphone just won't cut it in healthcare, even if it does have a cool design. Phones like the Spectralink Versity or the Zebra TC51-HCare built rugged, so if a shared device handoff misses and the phone tumbles to the hospital floor, you can just pick it up and keep on going. These devices can even be sterilized for use in clinical environments.
3. Camera and barcode scanners
There's no need to carry around barcode scanning hardware and a phone. Spectralink and Zebra both have devices that feature a dual-mode camera/barcode scanner, allowing a physician or nurse to scan a patient's ID bracelet in one moment, then capture a high-res image of their skin rash in the next.
4. Seamless EHR integration
Clinicians rely on having the right information at their fingertips in order to do their jobs efficiently. Healthcare-grade Wi-Fi phones integrate with leading EHR systems and allow clinicians to access and update patient data from the point of care.
5. Secure data exchange
Truly secure communication means encrypting messages at rest on the device and in transit. Spectralink and Zebra both integrate with the Spok Care Connect platform to enable care teams to request a consult, review lab results, respond to a nurse call request, and more, while meeting HIPAA-compliance standards and keeping patient data safe.
Consumer look and feel? Check. Healthcare-grade capabilities? Check x5. When it comes to care team communications, clinicians will have an edge with a Wi-Fi phone like those from Spectralink and Zebra. Top-of-the-line hardware and seamless integrations to mission critical systems combine to empower clinical mobility.
Looking for faster response times, streamlined workflows, and more satisfied clinicians? Spok can help your organization accomplish all of the above, while supporting the diverse device mix that works best for your needs. Our device agnostic approach, combined with the power and interoperability of Spok Care Connect, ensures the flexibility to fully support your hospital's unique environment. Contact us to learn more.