Blog
From Broken Bones to Patient Codes: The Life of a Radiology Tech
I recently joined Spok as Manager of Technical Support in Minnesota. While I am new to the company, I am not new to the healthcare industry. Prior to Spok I was at a healthcare technology company focused on administrative processes like patient billing, and before that I worked for a 175-bed hospital in Arizona as a practical technician of radiology.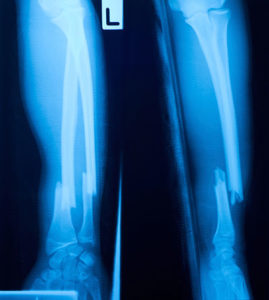 My career has taken a different trajectory since working in direct patient care because my heart is in technology, but my experience in radiology was eye-opening and gave me a solid understanding of healthcare to draw upon. As a practical rad tech, I was primarily responsible for still X-rays that would capture a snapshot of what was going on inside a patient. That may sound like a relatively simple task, but it was actually a highly stressful environment.
Our stress levels may not have been the same as doctors and nurses on the floor, but rad techs have to be available and ready for anything. Most of the time it was taking X-rays of patients with non-life threatening injuries, like a child who swallowed a small toy, or an athlete who broke an arm. I also spent quite a bit of time in the operating room on standby in case X-rays were needed during surgery.
However, sometimes it was much more serious. The hospital was the primary facility for a dirt bike track about two miles away, and some of those riders came in with critical injuries. If the physicians determined they had to operate immediately, one of us had to go into surgery for several hours, which put a strain on our regular staffing level in the imaging lab. Additionally, every time after a patient was treated by the rapid response team for a code call, we had to be ready to take an X-ray immediately after the person was stabilized. We took a still shot of their heart and lung functioning first to determine if they were stable enough to move onto other imaging.
My time as a rad tech predates smartphones and other healthcare technology software, so communication with physicians was a knock on their window across the hall, a page, or a fax—secure email and secure texting didn't exist yet. While these methods were effective to a point, they didn't contain all of the available information, weren't all that fast, and most importantly, they all depended on me for action and follow-up. There was a lot of room for error and wasted time.
Now that I've seen how communication technology has progressed, I realize how beneficial it would have been to have a tool like Spok's critical test results management (CTRM) solution. Given the high frequency and variability of injuries I saw come through the hospital doors, having the ability to quickly notify physicians of patient test results and avoid phone tag would have saved all of us—the doctor, the rad tech, and the patient—valuable time.
I've been very happy with the move from direct patient care to a more behind-the-scenes role on the technical side. I've been able to pursue my passion for technology and still support patients by helping hospitals with their critical communications.