Blog
Back to Basics: Wi-Fi Coverage Is Key to Secure Messaging Success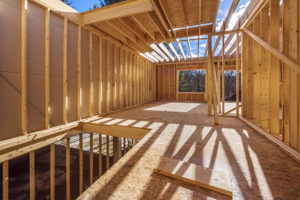 When my wife and I bought our house nine years ago, we were looking for what most first-time home buyers are: custom cosmetic touches, specific styles, conveniences, and colors (all the wrong things to be looking for).
Despite loving the home we selected, we've had to spend quite a bit of money to keep it standing. For example, when we bought our home, the crawlspace would flood every time it rained, extinguishing the pilot light on the water heater stored there. I would have to syphon out water and put a fan down there for days to dry out the pilot wick and restore our hot water. This, of course, meant days without hot water every…time…it…rained. It also meant that the foundation of our house was under constant threat from erosion—a costly oversight (financially and nearly maritally). All those cosmetic touches, styles, conveniences, and colors wouldn't mean much without a foundation to stand on.
Build a Strong Foundation for Technology in Your Hospital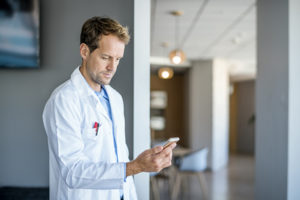 The use of mobile technology in hospitals is growing rapidly. A recent survey found that 90 percent of healthcare IT decision-makers are planning to implement a mobile device initiative to improve patient care, facilitate efficiencies within care teams, or both. Our own mobile strategies in healthcaresurvey demonstrated that the use of smartphones in healthcare has steadily increased over the past five years, with 74 percent of healthcare professionals using smartphones. Finally, the global wireless health market is projected to grow from 39 billion in 2015 to 110 billion by 2020, and that doesn't even count the caregivers, patients, and families bringing in their own devices, nor the mobile machines and systems throughout hospitals.
The challenge is that all this new tech puts an unprecedented demand on wireless infrastructure – and while investments in wireless infrastructure are growing as well, many hospitals struggle to keep pace with the influx of mobile devices. Our mobility survey shows that 49 percent and 59 percent of healthcare professionals report areas of poor Wi-Fi coverage and mobile coverage, respectively. This reflects a serious, core technology problem that hospitals face today: Many hospitals do not have the wireless infrastructure in place to support the continuing rise in mobile use cases.
APs to VLan: The Wi-Fi Issues That May Be Wreaking Havoc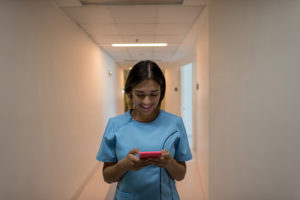 Recently I visited a handful of hospitals who were reporting challenges with the use of mobile technologies. Among their challenges were delays of critical messages and alerts intended for smartphones. In my troubleshooting, I worked to isolate the problems at each site, including a review of applications and systems, user behavior, device settings and infrastructure (load balancers, DNS, etc.). In almost all cases, most of the issues were isolated to deficits of wireless infrastructure – whether related to coverage, architecture, or configuration.
Messaging wasn't the only use case affected: Mobile access to the EHR, drug references, and all other clinical applications were also problematic. I also realized that disconnecting these mobile devices from the network meant disconnecting the caregivers from important, sometimes patient-critical information. These infrastructure deficits posed a substantial risk to patient care.
Among the wireless issues, I found spotty coverage, access points (APs) at full power, 2.4 GHz interference, traffic jams/oversubscribed APs, lack of appropriate VLan segmentation, excessive packet loss, lack of end-to-end QoS strategy, ACLs not properly set and captive portals with restricted access lists all wreaking havoc on mobile device connections. These issues ranged from moderate to severe, isolated to widespread, and the cost to mitigate the issues ranged from affordable to significantly costly, accordingly.
I found myself surrounded by mobile caregivers, struggling to stay connected. Was it too late for these hospitals to fix the problem? No, it's never too late, but the time is certainly now, as the risks to business operations and patient care continue to increase every day.
Avoid Shiny Objects: Invest in All the Right Places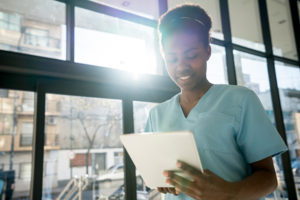 If you haven't recently conducted a passive wireless assessment, I would highly recommend considering one, making sure to partner with Spok or another reputable vendor. Passive wireless assessments provide a floor-by-floor heat map showing existing coverage and identifying any issues, ensure recommended specifications, and Identify sources of interference that may impact access and performance. A passive wireless assessment will help you prepare for business-critical mobility, identify potential security vulnerabilities, and ensure the successful rollout and operation of mobile applications.
If key findings and recommendations in your passive assessment indicate the need for remediation (including issues listed above, etc.), I urge you to pursue it as quickly as possible. The assessment and subsequent remediation will be well worth the cost, time, and effort, as the investment will help ensure caregivers can connect to information and communication sources while mobile. Remember, this is an investment in patient care.
As you build out your business plans and mobile strategies, make sure you don't focus too much on the flashy apps and dazzling devices before you focus on the most important aspect of your investment: The foundation, the infrastructure.
Luckily for my wife and I, we wised up and fixed the water issues that threatened the foundation of our home and now we enjoy all the wonderful custom cosmetic touches, specific styles, conveniences, and colors—and most of all, continuous hot water and a happy marriage.