Blog
Advancing Interoperability
Interoperability refers to a system's ability to connect with other systems. This can mean seamlessly passing data back and forth, or it can be more advanced—standardizing how that data is presented, shared, and protected. Interoperability can often be confused with integration, the linking together of different computing systems and software applications in such a way as to act as one coordinated whole. The importance of interoperability is that it allows different systems to speak with one another without the involved coordination of integration.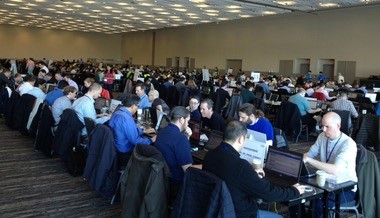 All of our healthcare customers struggle with both integration and interoperability on some level. But let's focus on the primary need of interoperability first. Whether they're deploying a nurse call system, implementing an EMR, or making sure their on-call schedules feed into their secure text messaging app, our customers need interoperability in order to be productive. Rather than merely sympathizing, Spok proactively works on tackling interoperability with them in their specific hospital workflows, and we participate actively in larger industry initiatives as well. For example, Spok has been a member organization of Integrating the Healthcare Enterprise (IHE) since 2009.
IHE is a public-private collaboration of stakeholders—over 600 organizations around the world—invested in improving the way computer systems in healthcare share data. Our common goal is to enable seamless and secure access to health information whenever and wherever needed. I serve as a voting member in the Patient Care Device (PCD) Planning and Technical Committees.
Advancing interoperability is a massive undertaking, but when all of these heads on IHE's various committees come together on a weekly basis, we make steady progress on addressing critical problems through use case development, implementation guides, and industry-wide interoperability testing events, IHE Connectathons. Connectathons are held annually and bring together more than 500 engineers from over 100 companies, including Spok, to test hundreds of solutions with National Institute of Standards and Technology (NIST) oversight. These solutions have implemented IHE profiles or implementation guides that define the use of standards to address specific health IT interoperability needs. Connectathons ensure those profiles work well with partners in the industry.
IHE is run by domain volunteer experts like myself, and all of the time and energy we invest into developing these IHE profiles pays off for hospitals and health systems. Spok's membership helps us form the standards by which patient care devices communicate with other devices, resulting in standardization of common device alarm notifications, naming conventions, and so on. Simply put, systems developed in accordance with IHE communicate with one another better, are easier to implement, are more predictable in the way they work, provide richer content, and enable care providers to use information more effectively.
IHE profiles are implemented in hundreds of health IT solutions and in a multitude of care settings around the world, and IHE's efforts run parallel with guidelines issued by The Joint Commission and the ECRI Institute. According to HIMSS, these profiles provide the foundation for numerous health information exchange and electronic health record programs internationally and support many of the capabilities specified under the Meaningful Use program of the U.S. Office of the National Coordinator (ONC) for Health Information Technology and Centers for Medicare and Medicaid Services (CMS).
The next Connectathon happens in just a few weeks: Jan. 25-29 at the Cleveland Convention Center and HIMSS Innovation Center in Cleveland. I can't wait to represent Spok for the sixth consecutive year and test our interfaces with multiple vendors. We are committed to continuing to make things simpler for our customers, and more broadly, advance the level of interoperability across healthcare.