Blog
6 Questions with Dr. Colin Banas, CMIO at VCU Health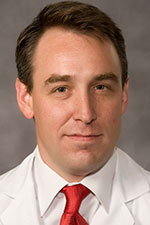 Today is National Doctors' Day, a day to recognize the contributions of physicians to the lives of both individual patients as well as the communities they serve. In honor of the day, we sat down with Dr. Colin Banas, chief medical information officer at Virginia Commonwealth University (VCU) Health System. This academic medical center has more than 750 physicians in 200 specialties, and has been recognized as a Most Wired organization. Read our Q&A below to learn about his priorities, challenges, and which small gesture means the most to a physician on Doctors' Day.
What does your role as CMIO encompass at VCU? What are your top initiatives?
I've been CMIO at VCU for about eight years now, and the role definitely continues to evolve as technology does. At a high level, I'm involved with any application of technology in the care process. Early in my career, I spent a lot of time with the EHR, as you can imagine—and we're still tweaking and optimizing it. As the need for technology has grown, the CMIO role has grown as well. I have to think about the impact of many different systems and initiatives, including communication technology like Spok®, population health, big data, and analytics. One of our top projects right now is telemedicine: We're trying to introduce a new telehealth platform to grow our capacity to see patients with the addition of virtual visits. Regulatory and compliance priorities, like Meaningful Use, also take a lot of our time. Overall, I'd say the No. 1 priority is always to keep the lights on and the daily care process moving: The care and feeding of the system is never done—there is always so much going on.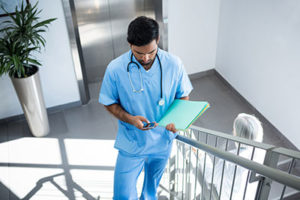 What would you say is your biggest challenge currently, and how are you working to tackle it?
Interoperability is a big challenge for us. I know we're not alone in that; it's a nationwide problem. CMS and other government agencies have a grand vision for interoperability, but I don't think it can be overestimated how difficult it is. It's been a priority for us for at least the past five years, and true interoperability still hasn't happened. As a Level I trauma academic tertiary care center, we have a lot of specialty centers. Many patients are referred to our experts, but getting records from outside the institution is a huge problem. We can get more information from a fax than we can from an HIE (health information exchange system) right now. We still have to rely on paper processes sometimes because interoperability just isn't there yet.
What's the state of mobility at VCU, and how do you support doctors with mobile technology?
I think our mobile strategy is constantly evolving, and that's a good thing. A few years ago, we made a commitment to make sure every attending physician had a corporate-supplied iPhone® to make their jobs easier. The iPhones allow them to keep tabs on patients from wherever they are and access institutional knowledge, VisualDx, and other medical reference apps. In the future, we'll add the full mobility platform from our EHR vendor, Cerner®, and we'll already have the foundation in place to be able to do that. We're also working on moving to virtual pagers and secure smartphone messaging, and we've had a lot of success with Spok Mobile®. We're an academic medical center, but we haven't made the leap for all residents to be on smartphones yet. We do have a pilot group with iPhones. We're trying to decide if we want to be a 'bring your own device' (BYOD) organization, or give everyone who works at VCU a device and set corporate expectations for use. We're getting close to a tipping point—change is hard!
How do Spok solutions support clinical communications at VCU?
For us right now, Spok connects the dots. It's very nice to be able to jump on my smartphone and search for who is covering a certain service at that point in time. VCU uses a lot of role-based virtual pagers that our clinicians sign into, and now our staff doesn't need to know who that person is by name; they can just look up the role and reach the right person quickly. Within the past few months, we've worked with Spok to improve the way we order consults. We start in our Cerner EHR, so we have a record of Doctor A requesting a consult with Doctor B. Then a message is automatically generated and sent to the covering physician's virtual pager or Spok Mobile. We still have work to do, of course, but Spok has been a huge win for our institution.
How does VCU involve physicians in technology decisions?
As CMIO, I lead VCU's Office of Clinical Transformation, or OCT—I figured we needed more acronyms around here! In all seriousness, the OCT oversees a variety of councils and actively invites practicing clinicians to weigh in on certain aspects of technology. A lot of discussions are based on the EHR, but they also lend their opinions of Spok and other technologies to improve our use of those solutions and drive adoption.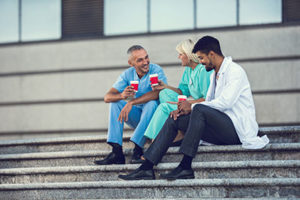 What's the best way for a healthcare organization or a patient to show appreciation to physicians on National Doctors' Day?
Coffee! Just kidding. It is a nice day of recognition, and our hospital goes all out and puts up posters and gives our doctors free breakfast that day. So, you know what, maybe it is coffee…buy your doctor a cup of coffee. He'll love you for the rest of the year.