Blog
3 Ways to Develop the Next Generation of Nursing Leaders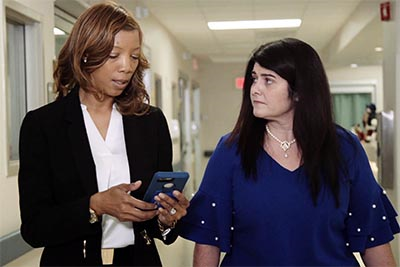 In case you missed it, the premier organization for nursing leaders, the American Organization of Nurse Executives™, announced one of the biggest changes in its 50-year history at its annual meeting last week: AONE is becoming AONL, or the American Organization for Nursing Leadership™.
AONE leadership decided to rebrand the organization to more fully reflect those they serve. As a nurse leader who did not take a traditional or linear path to the position of Chief Nursing Officer (CNO) and someone who has a deep passion for investing in the next generation of nurse leaders, I couldn't be happier.
You don't need to be an "executive" to be a nurse leader, and as a profession and an industry, we need to do more to encourage nursing leadership at every stage. Here are three ways you can develop the next generation of nurse leaders at your organization:
1. Expand your horizons
Hospital administrators tend to have a very traditional view of the CNO profile. Typically, nurse leaders who reach this leadership level follow a common path—they were a bedside nurse for years, obtained an advanced degree, then worked their way up to nurse leader, clinical nurse manager, and finally, nurse executive.
While this path is certainly still valid, we must be open to others who look different. My own path was a bit of a zig zag: I started as a critical care nurse, then nurse manager of a cardiac transplant and telemetry unit, then director of nursing operations. After that, I reached the executive level, but I went from Chief Nursing Officer at a hospital to Chief Clinical Informatics Officer at a health system, to Chief Nursing Officer again at a healthcare technology company.
My point is, healthcare organizations may be missing out on great candidates for the nurse leaders of tomorrow if they aren't open to alternative profiles and career paths. As the industry evolves, diversity of experience among clinical leadership is paramount to lead the transformation of healthcare.
2.  Create development programs
One of the most frustrating things to observe in the industry is when a CNO retires. Often there is an immediate push to go recruit from outside the organization. If the hospital is effectively investing in and developing nurse leaders, this shouldn't be the initial go-to approach. Ideally, you would have nurse leaders consistently rising through the ranks and succession plans that promote from within.
Nursing recruitment and retention tend to get most of the buzz and press, and those are both incredibly important. However, the last piece that many organizations aren't thinking about is succession planning: How will you prepare for the inevitable transitions as baby boomer nurses retire? (73 percent plan to do so soon) I recommend a formalized process for finding nursing leadership talent, nurturing those professionals at every level, and creating paths for advancement. This can take a variety of forms, but a few components most programs have:
Professional development: Provide support for continuing education, whether it's additional schooling or certifications through training. Particularly certifications that broaden nurses' (or emerging nurse leaders') knowledge and skillsets to complement their nursing practice experience, such as Six Sigma or information technology
Mentorship: Leverage current nurse leaders to spot rising nurse leaders and provide the nurturing 1:1 mentorship that's so valuable to career growth and trajectory. Mentors aren't just for new nurses—they're important assets throughout one's nursing career.
On-the-job Instruction: CNOs and/or nursing directors should dedicate time on a weekly or monthly basis to teach nurse managers about topics they may not encounter through their daily work, like staff retention and recruitment, financial stewardship and planning, leveraging technology, community outreach, effective communication, and viewing healthcare like a team sport.
3. Celebrate and build
The theme of the AONE 2019 Annual Conference was "Inspiring Nurse Leaders." At first blush, this may seem a bit airy, but it's quite profound if applied in practice. Nurses are some of the most trusted and dedicated professionals among all industries, and their intrinsic motivation to go above and beyond for each and every patient is commendable.
However, those traits can also make it easy to take them for granted. Sixty-two percent of nurses report feeling burned out at their jobs, and by 2020, two of three millennial nurses say they'll be seeking other opportunities. Make conscious efforts to celebrate your nurses on an ongoing basis (not just during Nurses Week!) and support their evolution from "functional doers" to "thoughtful strategists."
By building up your nurses through investment in their professional development, real-time recognition of successes, and an organizational culture of appreciation for those on the frontlines of care, you're inspiring nurses to stay in the field and to advance their careers within your hospital or health system. If you don't give them opportunities, the best nurses will create their own—and that may mean charting their own course elsewhere.
The CNO of Tomorrow
The CNO of today is very different from the CNO of yesterday, and we not only have to accept that, but also proactively encourage it and prepare for even more change with the CNO of tomorrow. Diverse portfolios of experience, time outside of hospital walls, eclectic leadership styles, unique perspectives, and new ideas are all things to be embraced and celebrated.
Nurses' influence is key to our collective evolution as an industry, and if we empower them to innovate, advance, and lead, the future is very bright.