Blog
The 3 P's of the Spok Experience
I lead the Spok global sales engineering team, and we pride ourselves on creating what I call "the Spok Experience." The sales engineers are one of the first points of contact for a prospective customer or a current customer considering the addition of another solution, so we represent Spok all day, every day.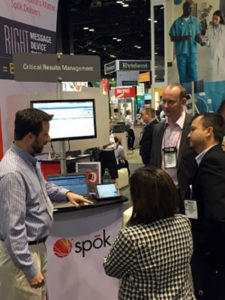 The definition of the Spok Experience can be summed up in three words: powerful, personalized, and professional. It's powerful because organizations see a surge in productivity after implementation—swifter communication makes a remarkably positive difference in many departments. Observations like "That's definitely faster than the way we do things now" and "This would completely cut out these steps in our current workflow" are common on our discovery calls. Our customers realize almost immediately what having the Spok platform means for their organization: faster, more accurate clinical communications that result in improved patient care and satisfaction, as well as better connected, happier staff.
It's personalized because we don't engage in cookie-cutter conversations: Before we do much talking, we do a lot of listening. My team asks about your communication challenges and what systems you have in place today—which EHR system, which imaging system, and so on—so they can tailor their demonstrations to your organization and use workflow examples that will be familiar to you. Our sales engineers know healthcare very well; they have spent countless hours working alongside Spok customers around the globe. Of course, we don't know it all—every customer environment is unique, and we learn things daily. But the knowledge we have accumulated from our collective time spent with customers enhances our ability to understand each customer's needs and how Spok® solutions meet them.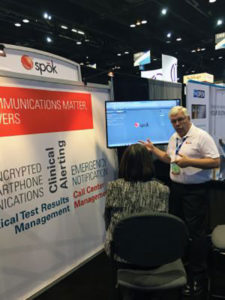 Finally, it's professional because we're by your side every step of the way. We don't ask customers to "buy Spok;" we ask them if they want to partner with us, because we'll be equally invested in making the project successful. By the way, the Spok Experience doesn't stop with us—once we finish working with you to determine the right solution mix, we provide a transition to Spok Professional Services for project implementation. This group shares our philosophy for working side by side with customers. They spend countless hours on conference calls and onsite with the customer not only to provide guidance on the technical details, but also to help customers with broader customer implementation challenges, like discussing the culture shift that may be required for staff adoption.
One customer recently told us "I have dealt with a lot of vendors, and Spok goes above and beyond." To us, there is no greater compliment. Are you interested in working with us to improve communications and collaboration at your organization? My team would love to help—send me an email, and we'll get started.