Blog
3 Clever Ways to Get More Out of Your EHR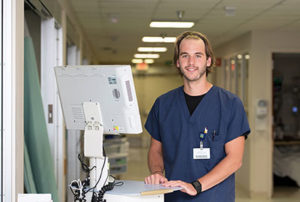 After working in the healthcare IT industry for more than a decade, you start to notice things that customers do well (or not so well) with their technology solutions. Particularly, healthcare facilities' utilization of EHRs. I worked many years for an EHR vendor, and I understand that it takes a lot of time, money, and resources to get up and running with an EHR. Some implementation investments can even add up to millions of dollars. But often, there's more that can be done to leverage all that data and effort to get even more benefit out of  your EHR investment.
With budgets being tightened, resources being stretched, and regulations becoming stricter, it only makes sense to try and leverage everything you can out of your technology solutions. In healthcare, one of the ultimate goals is always better patient outcomes and complementing your EHR system is a great way to help achieve that goal.
A recent Spok survey revealed that 38 percent of healthcare CIOs said their top priority in the next 18 months is optimizing EHR integration with other hospital systems. Coincidentally, a separate 2017 survey revealed the same thing: Thirty-eight percent of healthcare CIOs listed 'EHR optimization' as their organization's top area of planned capital investment over the next three years. Now that most hospitals have their EHR in place, it's obvious that optimizing the EHR is the next big thing. However, 'optimization' can mean a lot of things.
While working with your EHR vendor to maximize functionality is certainly part of optimization, one other big (and often neglected) part is to address gaps in clinical communication and collaboration. Where EHRs have proven to be a great source of data, they were not designed to support enterprise communication.
More healthcare leaders are realizing that both systems—the EHR and an enterprise healthcare communication platform—are necessary. "Three or even two years ago this wasn't a big topic," explains Jim Murry, CIO at Catholic Health Services, in a recent Spok white paper. "But today in healthcare the communication infrastructure is the backbone in IT for a lot of strategies that you build upon. Your messaging platform is going to be big. This is not to be taken lightly—it is a serious decision."
A robust, fully integrated healthcare communication platform fills the communication and collaboration gaps within the EHR by connecting care teams and systems to improve workflows and deliver information quickly and securely into the hands of those who need to act on it. To give you some tangible examples, here are just three of many potential ways you can maximize your EHR:
1. Route critical test results to the right provider, on the right device, at the right time.
When a critical lab or radiology result needs to be communicated, speed, accuracy, and efficiency are vital. Instead of only having these results communicated within the EHR, or through manual channels (like phone tag), critical test result notifications can be set up to automatically route those details to care team members on their mobile devices. Spok technology can send messages from lab and radiology by means of encrypted smartphone communications, encrypted two-way paging, secure email, secure text, images, annotations, and voice to a variety of endpoints such as workstations, laptops, tablets, smartphones, pagers, and other wireless devices.
Because the Spok Care Connect® platform is built for the entire healthcare organization, the integrations and data sources help ensure that the appropriate people receive the messages and can then begin treatment for the patient. You can even close the loop for critical test results by writing back to the EHR the exact date and time that the ordering physician viewed a critical result. With millions of lab and radiology tests taking place each year, this is a great area to maximize EHR data with complementary communications.
2. Include everyone on care teams, even those without EHR access.
While EHRs are accessible to the primary caregivers, there are plenty of other people who support patient care who don't have EHR access, but still need to be part of care communications. During a hospital stay an average patient might see up to 60 employees—everyone from doctors and nurses to orderlies and dietitians. Patient care in a hospital involves many different roles, and not all are in a directory within the EHR. Having a single source of truth with an enterprise-wide, web-based directory helps so that everyone has access to communicate with one another, regardless of EHR access.
Imagine having access to a full list of up-to-date on-call schedules, so reaching the right person for frequent things like a consult, is done quickly and accurately. Many experts, including The Joint Commission, agree that poor communication is a leading cause of death and serious injury of hospital patients. Extend the reach of your EHR by utilizing a more all-encompassing directory of staff, so communication gaps are a thing of the past.
3. Streamline workflows with enhanced mobile communications.
The patient experience, as well as your organization's patient throughput, can be improved with more comprehensive communication among care teams. Take the Admit, Discharge, Transfer (ADT) process for instance. As soon as events that trigger ADT messages are entered into the EHR, other services—even nonclinical team members like transport or housekeeping—can be automatically notified to smooth and accelerate the patient experience.
And when using a multi-modal communication platform, messages triggered from the EHR have the flexibility to be delivered on a variety of end-user devices, including smartphones, pagers, and Wi-Fi phones. From non-urgent to critical messages, you can also add in escalation contacts in the event a message is not received and acknowledged in a pre-defined timeframe. This connects staff more quickly for important conversations, and reduces time spent calling around for doctors or waiting for responses. All of which helps improve your workflows, patient transitions, and efficiency of care. Make your workflows even more efficient with enhanced mobile communications flowing in and out of your EHR.
The EHR is good at capturing specific moments in time. A clinical communication platform helps care teams communicate in real time. In the healthcare environment, people and technology need to communicate flawlessly to speed response times and keep safety and satisfaction at the forefront. Extend the reach and effectiveness of your EHR with a complete communication system to reach staff and patients when and where needed.
For more information on ways to get more out of your EHR, check out this white paper: 6 Ways to Bolster the Benefits of Your EHR by Improving Communications in Your Hospital, as well as The CMIO's Guide to Doing More With Spok + Your EHR: 17 Ways to Achieve the Quadruple Aim.
To see how other organizations have achieved significant improvements and wins with enhancing their communications beyond the EHR, visit the Spok Customer ROI page.