Blog
[2020 report] The state of healthcare communications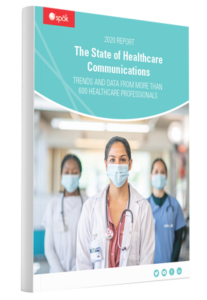 We surveyed more than 600 healthcare professionals in July 2020 from hospitals and health systems nationwide. This resulting report is an in-depth look at trends, challenges, and predictions for the future of healthcare communications.
While it's a challenging time for healthcare, it's also a time rife with opportunity for change. As healthcare organizations plan for the future of communications, our hope is that this report can help provide advice, guidance, and helpful information from peers.
Read trends and data from more than 600 healthcare professionals on:
1. Enterprise communications
For this report, we defined an enterprise, or hospital-wide, communication solution as one that enables organizations to create economies of scale by addressing multiple communication challenges with fewer solutions. This approach eliminates silos of information and improves the quality of care. It also removes the need for every department to have its own complete system. Read more to learn what healthcare professionals say about the importance of enterprise communications.
2. Types of devices in hospitals and health systems
Since 2011, we've asked survey respondents about the types of communication devices their organization supports. This report provides a unique look at how communication devices and technology have changed in healthcare in the past ten years.
3. Current challenges
What do healthcare leaders see as the biggest obstacles to improving healthcare communications and how might these challenges contribute to clinician burnout? Read our report for an inside look.
4. COVID-19 and healthcare communications
The sudden onset of the COVID-19 pandemic created an immediate need for hospitals and health systems to make rapid changes and adaptations to many existing clinical workflows, policies, and procedures. While healthcare has changed dramatically and will likely never completely return to pre-pandemic "business as usual," what can we learn about healthcare communications through the response to COVID-19?
5. The role of cloud technology, plus additional findings!
Market forces in healthcare will all but mandate greater use of the cloud to achieve critical enterprise goals including security, availability, and the ability to scale. What did healthcare professionals say about transitioning technology to the cloud?