Blog
Ways To Prevent Delays in Time-Sensitive Secure Messages | Blog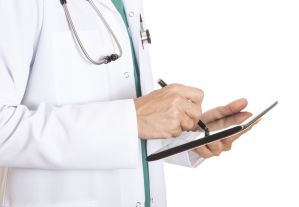 Time is of the essence when communicating in healthcare. Delays in communication can lead to patients becoming frustrated, conditions worsening, or even patient death. The Joint Commission has cited communication-related issues to be the root cause of 70 percent of sentinel events. Inversely, effective and efficient communication can lead to increased patient satisfaction, better patient care, and life-saving outcomes. So when hospitals look to implement technology systems to support communication between care providers, designing for reliable and efficient delivery is paramount.
Over the years, I've helped dozens of hospitals implement enterprise communication systems to streamline workflows. Secure text messaging has been a component in many of these solutions. While secure text messaging can provide tremendous value by increasing security and communication efficiency, it must be implemented carefully to ensure rapid delivery of time-sensitive messages for that value to be realized. As secure text messages are delivered over Wi-Fi and mobile data networks and require devices to maintain constant connectivity for message delivery, hospital wireless infrastructure will be put to the test. Due to the patient-critical and time-sensitive nature of many of the messages that traverse the networks via secure text messages, the coverage footprint and design of these networks can lead to either improved patient care or increased risk. The efficiency of getting a message regarding a critical lab result or a code STEMI to a care provider, for example, can be a matter of life and death. Message delivery delays must be avoided at all costs, and proactively avoiding delays is critical.
Here are 10 ways to avoid delays in the delivery of secure text messages:
1. Ensure wireless coverage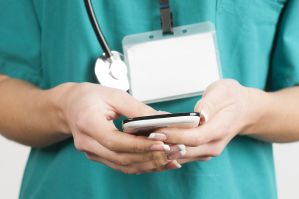 Ensure that Wi-Fi and mobile data coverage is ubiquitous throughout the hospital. Conduct site surveys to identify the coverage footprint and resolve any coverage issues, and implement a mobile carrier distributed antenna system.
2. Create a strong wireless architecture
Ensure a carefully architected stacked or staggered design for Wi-Fi access point placement and optimize signal strength thresholds. Follow best practices for designing Medical Grade Networks as provided by network experts.
3. Avoid captive portals
Captive portals and web authentication that require users to accept terms and conditions each time they connect can cause disruptions in connectivity when the connection times out or the user leaves the range of the network and returns later. If possible, these should be avoided on any networks that secure texting users can access.
4. Educate users that some devices do not support simultaneous voice and data
Some devices cannot receive mobile data while a user is on a voice call (unless the device is connected to a Wi-Fi network while the call is active). This can cause secure text messages to be delayed while users are actively on voice calls on these devices.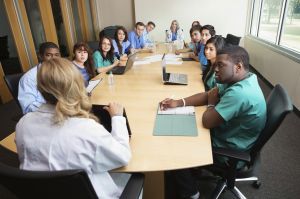 5. Educate users to make sure push notifications are configured to show on the lock screen
Devices will not alert when sleeping if settings are not configured to display on a locked screen, which may cause delays when the device is in sleep mode.
Network connectivity is not the only thing that can cause secure text messages to be delayed. Most secure text messaging solutions also rely on push notifications to alert the user that they have a message. Anything that could block push notifications from being delivered can cause delays in the user becoming aware that they have received a message. This could include network configurations or end-user device settings.
6. Remove restrictions that may block push notifications
If hospital firewalls or networks are restricting ports that prevent access from devices to Apple®/Google® push notification servers, notifications will not be received. All restrictions should be removed to ensure timely delivery of notifications and messages.
7. Educate users to ensure push notifications are turned on
Push notifications must be turned on in order for the secure texting app to receive notifications.
8. Educate users to avoid do not disturb features
Do not disturb features will prevent devices from checking for push notifications.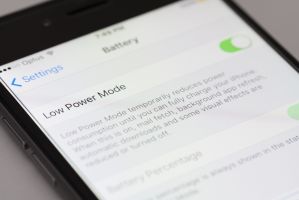 9. Educate users to avoid low power mode as much as possible
Low power mode can prevent or reduce the frequency of push notifications.
10. Educate users to avoid restricting background data and some task killers
On some devices, restricting background data and some task killers can affect push notification delivery. If notifications are delayed, these settings and applications should be avoided.
Careful planning and preparation can help ensure that secure text messages and other forms of communication are delivered in a reliable and efficient manner. This is essential to patient care-related workflows. By ensuring a robust and well-defined wireless infrastructure, educating users around limitations, and mitigating issues that can cause push notifications to be delayed, IT teams can deliver a medical grade service that gets messages to the right care providers quickly. This in turn supports positive clinical outcomes.