Blog
10 Things End Users Need to Know About Secure Text Messaging Right Out of the Gate

"The average attention span of a modern human being is about half as long as whatever you're trying to tell them," says author Meg Rosoff. In fact, according to a recent Microsoft study, humans now have shorter attention spans than goldfish. Over the last decade or so, our average transient attention span has dropped from 12 seconds to eight seconds (we've lost a third of an already shrimpy span of attention). It's quite possible that some readers have already run out of attention, stopped reading this post, and moved on to something else!
Technology is one of the primary thieves that has hijacked those precious seconds of attention from us. The recent drop in our attention span has coincided with technological revolutions, like mobility. Conversely, our declining attention spans are making the implementation of technology difficult in enterprise environments. Technology is having a negative impact on our attention span and our attention span is having a negative impact on the adoption of technology.
Still with me? Good, we're getting somewhere. As we deploy new technology to clinical users in large healthcare environments, user training and knowledge management are essential to success. If users don't understand how to use the technology and why, they simply won't use it. This can significantly impact organizational efficiencies, render technology investments useless, and diminish value. Let's take secure text messaging for example. Over half of hospitals have implemented this technology, but few have achieved broad adoption across a large user base. Challenges with adoption are related to end user acceptance, which is closely tied to a user's understanding of utility and warranty of service.
This leads us back to the average human attention span. We can only share small bits of information at a time with users to educate them about technology. Again, humans have an eight-second attention span when it comes to transient attention (short-term response to stimuli on our environment). We have just eight seconds to convey why the technology is important. If we can do that effectively, we may have a few minutes to train a user. If we catch a user's attention, we may gain access to their selective, sustained attention, which has a longer span of somewhere between five and 20 minutes.
As you implement secure text messaging at your hospital, you need to get your users with a hook and then keep your training to around just 10 minutes. Here are the 10 things your users need to know in the first 10 minutes:
How secure text messaging can help the user (8 seconds): Start with a very quick elevator pitch. Say one thing that will make them feel like they want to use the service: They can access the enterprise directory from their smartphone or look up who's on call. Pick one thing they'll really care about.

Overview of rollout plan (60 secs): Set a quick expectation to let the user know what other users they can find in the directory.  Who is in the directory now (hospitalists, physicians, nurses, specialists, etc.) and who will be on in the next few months?

How to use core messaging features of the application (120 seconds): Quickly show the user how to send messages, track message delivery, receive messages, and send replies.

How to manage availability status/presence in the application (60 seconds): Show the user how to update their availability status and alert tone settings.

Three applicable use cases (30 seconds): Share three relevant scenarios the app will improve. For example, if the user is a hospitalist (and ED physicians and on-call specialists are in the directory), tell them they can use it to acknowledge admit consults sent from ED physicians, share images with specialists, and find who's on call.

How to manage visual and audible alerts (60 seconds): Show the user how to manage alert tones, volume, and vibrate by using the physical buttons on the device and the app settings.

How to configure device settings (90 seconds): Make sure the user knows that the app will require push notifications to be turned on to actively receive messages. Train them on device OS settings that could negatively impact timely delivery of push notifications, such as low power mode, do not disturb, and background app refresh.

How to manage network connections (90 seconds): Make sure the user knows what Wi-Fi network(s) they should be connecting to (and get them connected/authenticated), have them go in and "forget" any guest networks that may cause issues (such as networks with captive portals/web authentication), and how to check to make sure they are online. In some environments, users may also benefit from turning off Wi-Fi assist on iOS devices and should be trained on how to do so.

How to troubleshoot basic issues (60 seconds): If your secure text messaging vendor offers a built-in health check (Spok does), train the user on how to run the check and interpret the results.

How to get knowledge and support (30 seconds): Show the user who to call and where to go online to get additional knowledge and support.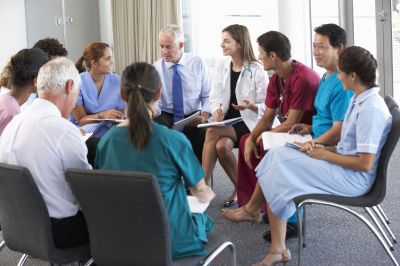 Of course, most users will forget the majority of what they hear. That first 10 minutes is just about building the foundation. You'll need to reinforce the foundation a few times and test it before you begin building on more knowledge. You can do this by providing the user with a quick-start guide containing everything you trained them on during onboarding and by sending a tip of the month to reiterate the most important things over the span of the first few months.
Once you have reinforced and tested this critical knowledge, you can move on to the many other things they'll need to know as they use the service, like how to use additional application features (templates, favorites, group messaging, etc.). You should plan to provide ongoing, iterative training over time by introducing one new tip, trick, or FAQ every month or so throughout the user's journey with the solution. Remember, for each tip you share, you have just about eight seconds to get a user's attention and likely just minutes to keep it.