Blog
Why cloud computing in healthcare is more important than ever
Few computing technologies are creating as much massive long-term societal impact as cloud computing and its ability to revolutionize how consumers and businesses use computers and software applications. Over the past several years, many hospitals and health systems have embraced the cloud for running critical applications, aggregating vast amounts of clinical data online, and fundamentally changing the way health systems communicate with patients and their families.
Moreover, consumers have equally, if not more so, propelled reliance on the cloud using an impressive array of computing devices ranging from desktops to smart connected IoT wearables that send and retrieve data to and from cloud infrastructure around the globe. Yet not everyone has made the leap. In this blog we'll explore the ins and outs of cloud computing and the benefits it can generate for healthcare.
What is cloud computing in healthcare?
Let's start with a definition. Microsoft defines cloud computing as "the delivery of computing services —including servers, storage, databases, networking, software, analytics, and intelligence—over the Internet ('the cloud')." Three essential goals of cloud computing are to offer faster innovation, flexible resources, and economies of scale compared to computing services that run and are maintained locally, or as many say, "on-premise" within an enterprise.
The most common categories of cloud services provided today are:
Infrastructure as a Service (IaaS)
Platform as a Service (PaaS)
Software as a Service (SaaS)
Examples of IaaS are Microsoft Azure and Amazon's AWS. Examples of popular SaaS solutions are Zoom, Slack, Dropbox, and Salesforce CRM. Healthcare SaaS solutions span clinical communication and collaboration (CC&C) platforms, telehealth solutions, and many other essential applications for provider and care team workflows. To go into more depth about how the cloud works, read this blog post.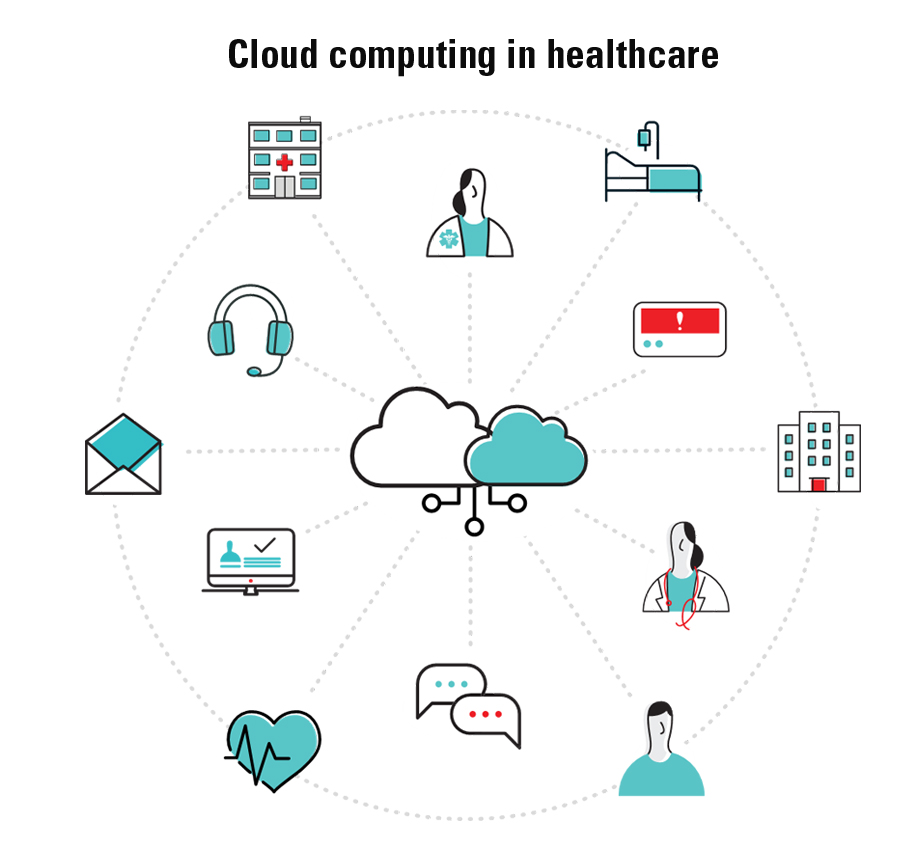 The increasing reliance on the cloud
In 2020, the Scottsdale Institute conducted a digital roundtable with CIOs from leading healthcare organizations. The discussion centered around the importance of getting the "digital front door" of healthcare right as it affects the patient experience as well as care. Accomplishing this requires a reduction in costs, meaning digital health capabilities will need to operate with fewer resources. This requires organizations to focus on tactics such as:
Consolidating multiple instances of technology
Leveraging the cloud
Optimizing existing applications
Relying on vendors to support implementations virtually, reducing in-house IT staff requirements
The impact of COVID-19 on cloud adoption
A recent Forbes article found that COVID-19 has been a catalyst for cloud adoption across many industries. Particularly for healthcare, it noted cloud service providers' offerings "…can leverage the cloud for the specific requirements of AI-based research and development, telehealth, as well as crisis management while aligning with data protection standards and HIPAA compliance."
In our 2020 healthcare industry survey, 67% of respondents reported that there were no specific applications they wouldn't host in the cloud. Interestingly, the data showed healthcare IT staff were less worried about moving applications to the cloud than physicians, nurses, or other clinicians. This may be due to their familiarity and comfort with the security protocols and benefits of hosting applications externally or in a hybrid model that blends cloud and on-premise infrastructure.
Security and cloud computing
As security of protected health information (PHI) remains a major focus in healthcare, some are concerned about moving sensitive patient data and critical applications from in-house servers to those in the cloud. The COVID-19 pandemic has put all health IT teams on edge given the massive spike in cyberattacks and data breaches. HIPAA Journal reported in January that the healthcare industry saw a 25% year-over-year increase in data breaches during 2020. However, breaches can occur with both cloud and on-premise infrastructure, underscoring why it's critical to take a hard look at security postures in either deployment model.
The fact remains that whether hospitals and health systems rely on in-house servers or look to the cloud, the appropriate security controls, proactive monitoring, and other preventive measures must be considered, and well-trained infosecurity professionals are a key part of this equation. The good news is leading cloud computing providers such as Amazon Web Services (AWS), Microsoft Azure, IBM, and Google have scores of security experts designing and implementing robust protocols to safeguard their cloud offerings. Learn more about how the cloud can improve healthcare security in this post.
Cloud computing reduces the IT burden
One of the major benefits of cloud computing and SaaS applications is that all users have access to the latest version of the software and can rely on a common set of capabilities. Likewise, a cloud-based solution reduces the need to purchase and maintain costly servers and also simplifies the installation and upgrade process. All of these capabilities lower IT employee requirements by offloading software installation projects to vendors, enabling overburdened resources to redirect their time to other projects as the Scottsdale Institute roundtable recommended.
Embracing the cloud
Cloud technology is improving how care teams diagnose, treat, communicate, and learn every day. It helps hospitals and health systems address key challenges, including:
Keeping clinical data and information secure
Increasing operational efficiency and flexibility
Retaining valuable clinical staff
Strengthening patient care and experience
Market forces in healthcare are all but mandating greater use of the cloud to achieve critical enterprise IT goals including security, high availability, and economies of scale. It's no longer a question of "if" hospitals and health systems should fully embrace cloud technology, but how soon.