Blog
Sleep Well: 5 Ways to Quiet Hospitals, Promote Rest, and Improve Patient Satisfaction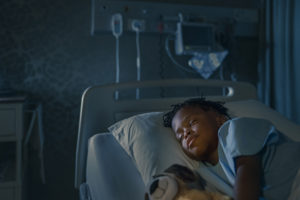 "Doctor, I hardly slept at all last night."
A good night's sleep in a hospital has long been something of an oxymoron. But how bad is it? Until recently there had never been a large-scale study to examine sleep in general hospital wards. Findings from a recent study of more than 2,000 patients across 39 hospitals were recently published in JAMA Internal Medicine and revealed the grim reality of rest (or lack thereof) within hospital walls:
Fewer hours: Patients slept an average of 83 fewer minutes in the hospital than at home, and also awoke more often
Poor quality: All aspects of sleep quality were rated worse during hospitalization than at home
More disruptions: Seventy percent of participants reported being awoken by external causes
These findings really hit home for me since I had a recent hospital stay in which it was difficult to rest. In one instance, a nurse awoke me at midnight to take my vitals. I had just drifted back off to sleep when the infusion pump at the bedside began beeping incessantly, startling me awake again just thirty minutes later. The cause? A dead battery because the pump didn't get plugged back in—a needless interruption.
The researchers behind this study accurately point out that the majority of these factors adversely affecting patients' rest and recovery are under our control. The study "revealed many potentially modifiable hospital-related factors negatively associated with sleep," the researchers concluded. "Introducing interventions that target sleep-disturbing factors in hospitals may lead to better sleep and better health outcomes."
Many of these disturbances can be addressed by incorporating simple changes and introducing clinical communication technology. Let's explore five ways to quiet the hospital, and in the process, promote rest and improve patient outcomes and satisfaction.
1. Track sleep quality
An excellent first step to promote better sleep for patients is to educate your staff. Review how your hospital scored on your most recent HCAHPS survey, particularly the individual item "Quietness of Hospital Environment." Nationally, 38 percent of patients report some noise at night ("usually quiet," "sometimes quiet," and "never quiet" responses). Set an institutional goal for improving your scores on that survey item, then begin tracking patient sleep.
The Penn Medicine Center for Health Care Innovation launched  "The Rest Project" to improve patient sleep, and one intervention focused on clinician behavior. They noticed that nurses in particular pay close attention to the aspects of patients' health that are measured, but sleep isn't measured. They decided to track patients sleep in a low-tech way—patients reported their sleep hours to an intern on the unit, who then posted those numbers somewhere prominent in the room.
Penn was now effectively treating sleep "like a vital sign," and it had an impact: Nurses noticed when patients were sleeping poorly, and made the extra effort the next night to help them sleep. Encouraged by this progress, they went high tech and began using sleep trackers. "We met with a nurse on the team recently and she mentioned that certain things like weighing a patient before 6 a.m. are 'no-gos' now, and staff are very adamant about it," says Penn design strategist Carolina Garzon Mrad, MSE. "That is just not how they work anymore."
2. Decrease disturbances
Make sure your physicians and nurses know that adequate patient sleep is an issue and seek opportunities to limit disruptions. For example, if you have three tasks to complete each evening that currently take three separate patient room visits, is it possible to combine them into one visit?
You can also decrease disturbances by letting patients know how they can adjust their room to minimize light and noise. For example, how to turn off the light directly above the bed in addition to the overhead room lighting, closing the blinds or drapes to block the window, turning on a fan, or closing a door. Penn Medicine actually takes these steps for patients by creating a "room concierge" service. Patients mark their room preferences and a unit clerk takes care of those needs each night. "It's hard for our patients to go and change things around the room, especially if they are at risk of falling," Mrad notes.
Some hospitals have taken the concierge approach even further by offering patients eye masks and earplugs (proven to reduce awakenings and increase duration of sleep), supplying blankets and bedtime snacks (Penn Medicine again), or even spraying lavender oil in patient rooms or providing an evening cup of herbal tea (the Department of Veterans Affairs New Jersey Health Care System).
3. Monitor patient vital signs remotely and minimize false positives and non-actionable alarms
Depending on the unit and condition of the patient, frequent checks of vital signs may be required. However, you can minimize the in-person visits during sleeping hours with remote monitoring. Continuous patient monitoring via clinical surveillance not only observes physiological parameters, but also intelligently detects and interprets signs of change.
However, continuous patient monitoring may not be realistic outside of the ICU or one-to-one patient care scenarios. Spok Alarm Surveillance powered by Bernoulli analyzes alarm patterns from patient care devices and allows you to tune your alarm settings to decrease false positives and non-actionable alarms. This smart filtering minimizes alarm fatigue since the technology can actively suppress nuisance and non-clinically actionable alarms from devices, while maintaining sounding alarms and alerting the correct clinicians for actionable alarms.
4. Eliminate overhead paging
Even in the smartphone era, many hospitals still rely on overhead paging to alert staff of needs or announcements. In a firsthand account we published on the blog last year, overhead pages occurred about every 10 minutes and most frustrating, included multiple tests. These alerts and announcements can be sent to all staff, a select group, or an individual using secure smartphone messaging or encrypted paging. For example, UMPC Pinnacle has largely converted overhead pages and hallway conversations to secure messages. The hospital sends more than 1,400 messages a day, including sending pages and alerts from patient care devices directly to clinicians' Wi-Fi phones or pagers. "We're a quiet hospital, so we don't make overhead announcements or use alarms unnecessarily if messages can be pushed through like this," Chris Hunsinger, telecommunications technician for UPMC Pinnacle, said. "We're very focused on the patient experience."
5. Deliver alerts to mobile devices
The researchers of the JAMA Internal Medicine study note another opportunity to quiet hospitals lies in converting sounding alarms to silent alerts sent to the right clinicians, or as they put it, "remote alarms in staff rooms and in the pockets of nurses." UPMC Pinnacle used clinical alerting technology to take the alerts created by the plethora of patient monitoring devices at the bedside and securely send them to the right person for response.
While the alarm will still sound at the bedside, clinical alerting helps hospitals respond more quickly to patients' needs by delivering that alert to the person best suited to act on it. For example, an abnormal heartrate pattern may be sent as a telemetry alert to that patient's nurse with high priority, whereas a low battery alert on the infusion pump, like the one I experienced, may be routed to a biomed technician. Pre-defined escalations help ensure that critical alerts are responded to in a timely fashion, and clinical context such as patient name, room number, vital signs, and live waveforms deliver the information required to make a decision, no matter where the recipient is at that time. Intelligent alarm management speeds response, improves staff efficiency, reduces noise on hospital floors, and improves patient satisfaction scores.
It's difficult to overestimate the value that sleep duration and quality has on patient rest and healing: "When our patients relate their difficulty sleeping in the hospital, they are not reporting only a nuisance but also a direct contributor to adverse outcomes, even mortality," note Harvard Medical School physicians in a commentary on the study.
Sleep disturbances are more than annoyances, and healthcare leaders have the power to make a difference. Start implementing these improvements today, and monitor your progress closely to observe the difference you're making in patients' healing.