Blog
Save the Date for Connect 19: The Sky's the Limit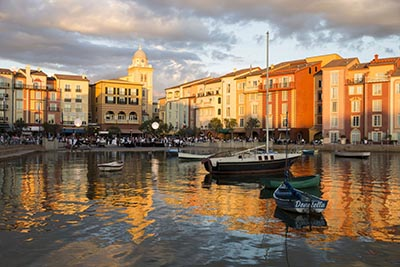 In February, we had our biggest HIMSS ever at HIMSS19in Orlando: We donated $4,807.50 to healthcare charity organizations, saw record attendance at the HIMSS Interoperability Showcase, and of course, officially launched cloud-native Spok Care Connect® to positive acclaim and lots of buzz.
We're excited to make even more memories in Orlando by returning for Connect 19! The Spok annual user conference will be held Oct. 27-30 at the Loews Portofino Bay Hotel at Universal Orlando—save the date!
The proximity to Cape Canaveral and banner year for the next evolution of Spok Care Connect inspired this year's theme: "The Sky's the Limit: Spok Care Connect in the Cloud."
We pride ourselves on making each year's event better than the last. If you've been to Connect, you know those are some big shoes to fill following Connect 18 in Scottsdale and Connect 17 in New Orleans (watch those videos to see the fun that's difficult to put into words!), but we're up for the challenge.
Here's what you can expect from Connect 19 in Orlando, by the numbers:
200+ healthcare professionals:
Connect is the premier national clinical communication event: Each year, the event gathers more than 200 members of the clinical communication community. From C-level leaders and IT professionals, from contact center managers to frontline clinicians, Connect offers each attendee opportunities to learn, network, and advance care collaboration at their organization.
8+ customer case studies:
Connect is not one of those conferences that focuses on theory at the expense of practice. Spok customers have told us that they learn best from each other, so we do our best to encourage as much of that as possible at Connect. Customer case studies from leading hospital and health systems across the country are our highest rated and most talked about education sessions. Leaders who have been there walk you through the do's and don'ts, and share their lessons learned for selecting, implementing, and optimizing clinical communication technology.
10+ expert and industry speakers:
In addition to our customer case studies, we send our best and brightest from Spok to talk to you about how to maximize your existing technology and give you a preview of what's coming in the short- and long-term with product roadmaps. Representatives from the Spok executive leadership team and Product Strategy, Development, Professional Services, and Support departments lead general and breakout sessions to share their deep expertise, answer pressing questions, and facilitate fruitful discussions.
12+ networking opportunities:
We try to help create as many "a-ha!" and "me, also!" moments as possible at Connect: Whatever challenges you're facing or opportunities you're weighing, chances are that someone at Connect is experiencing or has experienced it too. Connect offers structured opportunities to connect with likeminded folks, such as at table discussions and networking lunches, as well as informal opportunities like the breaks between education sessions.
Many sneak peeks at new technology:
While we've officially launched the next evolution of Spok Care Connect already, Connect 19 will offer a deeper dive into the first two applications of our cloud-native platform: Spok Go (messaging) and Spok Conduct (alerting). Additionally, Connect attendees will get the sneak peek at where we are heading with Spok Navigate, the cloud-native contact center solution. Finally, you'll get to see how these three applications will work seamlessly and realize the benefits of being cloud-native (and why it's different than cloud-hosted!).
Countless amounts of fun in the sun:
Being at the Loews Portofino Bay makes you feel like you're walking through an Italian seaside village, and its 65,000 feet of meeting space surrounds breezy courtyards—no trapped-in-a-ballroom feeling here! Our location near Universal CityWalk™ puts us just a short walk away from unique dining and entertainment. We'll spend one evening there for dinner, drinks, and live music! Of course, you're also welcome to explore on your own during downtime.
Extending your stay in Orlando before or after the conference? We're pleased to inform you that your Loews room key acts as a gateway to exclusive theme park benefitsat Universal Orlando™, including early park admission, complimentary water taxies or shuttle buses, complimentary delivery of merchandise, and the real gamechanger: FREE Universal Express Unlimited™ ride access to SKIP THE REGULAR LINES in Universal Studios and Islands of Adventure—a benefit worth up to $129 per person, per day!
But don't wait to plan! Orlando is super busy in October and the pre- and post-room rate is only available while rooms last. Book your room now to ensure availability.
1 YOU:
It may sound cheesy, but it's true: The transformative nature of Connect is amplified by each healthcare leader in attendance, and we want YOU to bring your unique experiences and perspectives to this national conversation on clinical communication. Together, we can connect care teams, make collaboration easier, and improve patient care.
Take a break from routine and focus on solving your organization's communication and workflow challenges by joining us in Orlando: Registration is now open!