Blog
HIMSS20 update: Booth events go virtual
We're disappointed but thankful to HIMSS for taking the lead in making the difficult decision to cancel HIMSS20. For those of you who were planning to visit our booth to be among the first to see Spok Go®, we're hosting several virtual events outlined below.
To see how Spok is responding to COVID-19, read this letter from Vince Kelly, CEO of Spok.
1. Take a tour of Spok Go, the first communication platform purpose-built
in the cloud for healthcare
Are you ready to launch a new era of care collaboration?
Step into our virtual booth to take a tour of Spok Go
Wednesday, March 18, at noon CT (1 p.m. ET)
Register today
Register to discover how Spok Go can:
Intelligently route messages, alerts, and information to the right person at the right time
Securely connect to on-premise systems such as EHR and nurse call
Provide real-time access to information regardless of location or device
2. Video: See how Spok Go solves communication challenges across your health system
3. Download: Don't miss this must-see content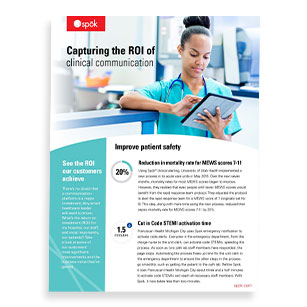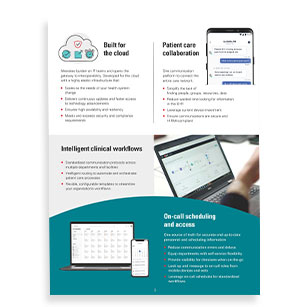 It's possible for one unified communication platform to solve the multiple challenges across different areas, departments, and locations in your health system. Download the brochure to learn more. Plus, see the ROI our customers achieve with their communication platform investments.
4. Reschedule your meetings
If you had a meeting scheduled, or if you're interested in a personalized demo, please contact us. We'll thank you with a $10 Starbucks gift card.
Though nothing can replace the buzz and excitement of HIMSS, we're looking forward to connecting with you virtually. In the meantime, we wish everyone health and safety.