Blog
Clinical diagnostics: Why today's critical test result processes are broken
Right now, there's a hospital lab technologist out there manually digging through her medical records or laboratory software. She's trying to determine who to contact with a critical value she just pulled off the lab analyzer. It could be a stat potassium or a set of cardiac enzymes, coags, or a hemoglobin for a trauma patient. And in today's world, it could be a positive COVID test result.
Manual processes and the game of telephone
The American Clinical Laboratory Association (ACLA) estimates that U.S. labs perform 7 billion clinical tests each year. The sheer volume of results adds to the list of challenges involved in communicating this information to ordering providers. In fact, you may be surprised to learn that nearly all hospital labs and reference labs use a manual process to communicate critical laboratory results.
Laboratorians wind up wasting precious time looking for the appropriate care provider to call with a critical test result. They get stuck waiting on hold for a nurse. They may try paging the provider, but if there is no speedy call-back, there's an information black hole. They don't know if the provider is stuck in the OR and unable to respond, or perhaps they didn't receive the page at all. That then leads to waiting for a provider to return the page to communicate the test results. Meanwhile, the clock is ticking, and patients are waiting in limbo.
Risks and challenges
Manual handling of laboratory results brings with it numerous challenges. It increases the risk of clerical and transcription errors. Dated technology also causes a poor user experience and frustration for all involved. In addition, nurses often have to spend time being go-betweens to get results to the ordering provider so the treatment plan can begin. All of these communication pitfalls can delay care and possibly cause patient harm.
Meeting key hospital and laboratory regulations
There are numerous regulations surrounding the way critical test results should be handled.
The Joint Commission
The Joint Commission's annual list of National Patient Safety Goals focuses on improving quality and patient safety. National Patient Safety Goal 02.03.01 states: Get important test results to the right staff person on time. To be compliant, hospitals must have written procedures that define a critical result, who sends and receives it, and the acceptable length of time for transmission.
Each month the Joint Commission also outlines additional topics or trends that could compromise patient safety. In December 2019, Quick Safety Issue 52 focused on advancing safety with closed-loop communication to ensure every test result sent, received, and acknowledged is documented and acted upon without failure to reduce diagnostic errors and prevent patient harm.
Clinical Laboratory Improvement Amendments (CLIA)
Hospital labs also need to comply with regulations from CLIA, a federal organization that establishes quality standards for all laboratory testing to ensure quality and safety, regardless of where a test is performed. Like Joint Commission guidelines, CLIA requires the lab to create and maintain definitions of tests and results that are considered critical.
College of American Pathologists (CAP)
Many laboratories elect to participate in CAP accreditation, which has additional requirements that drive critical test result communication activity above and beyond what CLIA and the Joint Commission recommend. To be compliant, laboratories must have procedures in place that outline the process for prompt communication. They must also maintain records of the critical results hand-off process, including documentation specifying read back for verbally communicated results.
Are current best practices really best?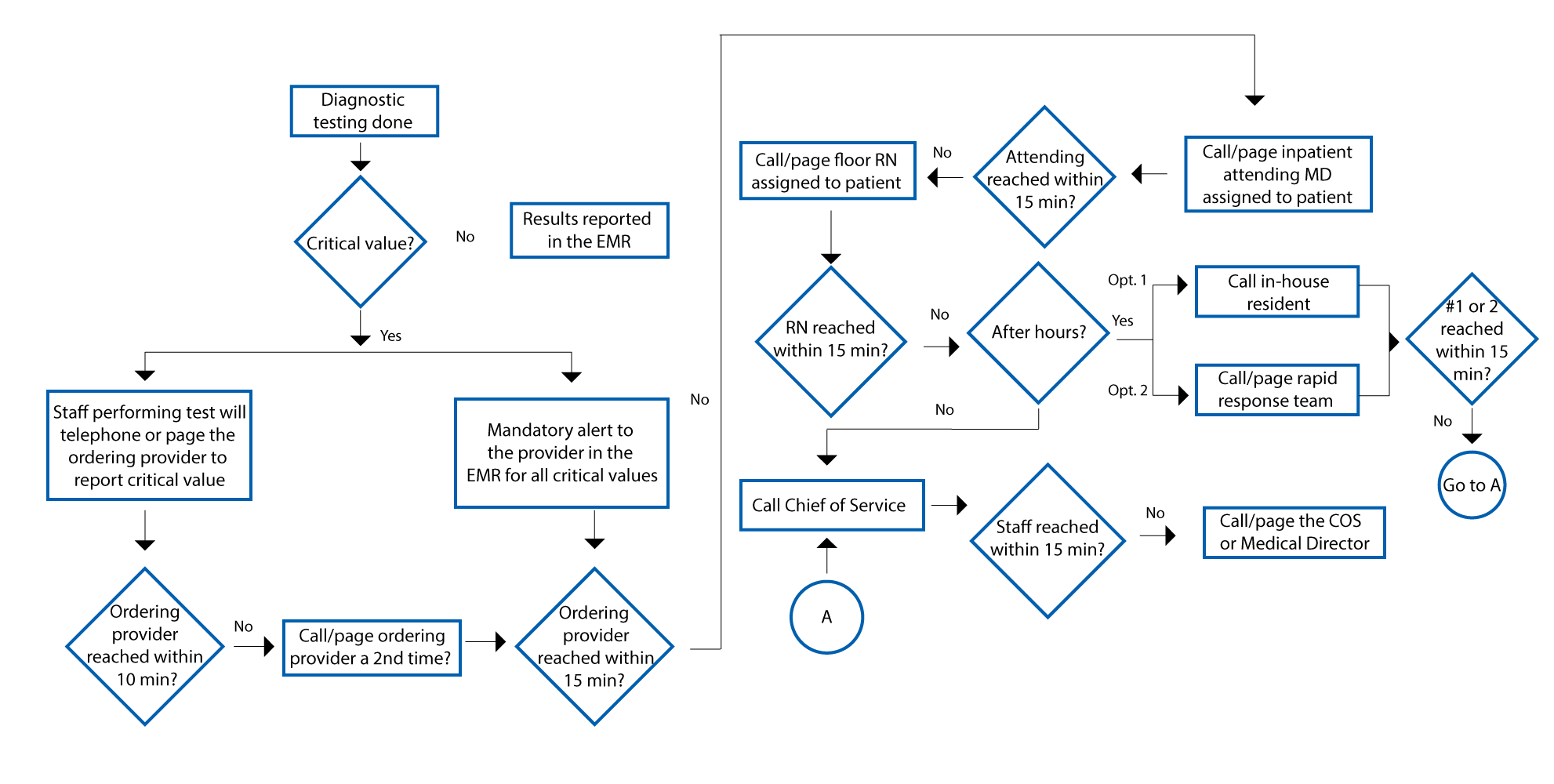 Another factor that complicates the handling of test results is The Joint Commission's recommended decision tree, above. Walking through the workflow for inpatient results communications is complex, to say the least, especially since the first step is identifying, then calling or paging the ordering provider.
If the ordering provider does not respond within 10 minutes, the lab tech should try them again. If they do not respond within 15 minutes, then the next point of escalation is a call to the attending physician. If they don't respond within 15 minutes, the tech should contact the nurse on the floor who is responsible for the patient…and well, you get the idea. There are a lot of steps involved that need to be manually managed—and a lot of wasted time. And due to challenges with current technology, the best practice is bypassed, and critical test results are given to the nurse, then transferred to the responsible provider.
By the numbers: the cost of poorly handled critical test results
The manual process of picking up the telephone and finding the responsible provider takes a considerable amount of effort and time. We did an informal survey of laboratorians, which indicated it takes 95 percent of individuals up to 10 minutes to communicate a single critical result.
Along these lines, let's consider a real-world example using a profile of a 305-bed hospital where the laboratory generates an average of 75 critical results per day. The lab indicates it takes 5 minutes to communicate a result to a nurse, then the nursing staff says it usually takes about 5 minutes to get the result to the provider. All that time adds up to just over 4,500 hours of time spent per year managing the communication of critical test results.
Food for thought
After considering the challenges you face associated with manual critical results processes, perhaps you can begin to envision the possibilities at your organization. Start by looking into how you currently communicate critical results and what initiatives may be afoot for improving the steps. Ask if providers receive results in a timely manner and whether care teams can coordinate patient care easily after receiving a result. Once you start the discovery process, you can investigate the options for enhancing efficiency and compliance, while boosting patient safety along the way.