Blog
The Change Agent: Meet Spok's New CMO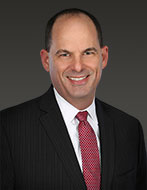 In an industry driven by disruptive innovation, perhaps the most important skill a Chief Medical Officer (CMO) can have is the ability to facilitate change management—and that's definitely something Spok's new CMO, Andrew Mellin, M.D., has in spades. From helping to oversee one of the most ambitious Epic implementations in the country to creating innovative solutions for improved quality by harnessing EHR data in real time, to engaging consumers in their health at a leading health and well-being company, Dr. Mellin has been helping lead the charge of various healthcare evolutions. In the Q&A below you can get to know him and learn how he'll help direct Spok's future.
What motivated you to become a physician?
My father is a physician, but when I went to college the only thing I was certain of was that I didn't want to be a physician—I had heard even then how much the practice of medicine was changing in ways that didn't always improve the practice and satisfaction of physicians. I thought I was going to be a scientist, but after staring at way too many fruit flies in a lab, I realized I really missed the human interactions and collaboration that comes with being on the front lines. By the time I was applying to medical school, I saw the practice of medicine as a way for me to combine my interest in science with a profession that is rooted in helping individuals and their families, collaborating with peers and teams, and being in a culture of lifelong learning.
I practiced for 15 years part-time as a hospitalist at a large health system in St. Paul, Minn. Being a hospitalist allowed me to be at the center of the patient care activities in the hospital and drove home the critical, yet often unmet, need to have everyone on the care team communicate in a timely, efficient manner to assure a consistent care plan for the patient.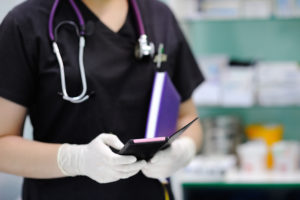 How did you become involved in health IT?
I've always been fascinated by the intersection of technology, clinical needs, and business requirements. A number of years ago, Homer Chin described this as a "three-legged stool," and I'm driven by the need to find solutions that optimize all three of these elements. When I moved to Minnesota in 1998, I took an unpaid internship at a company called Abaton.com, which was an early web-based ambulatory electronic medical record and one of the pioneers in electronic prescribing. I was hired there full-time, and that company was acquired by McKesson. I started as a product manager and subsequently became the director of physician strategy for a number of its health system physician solutions.
I had an opportunity in the mid-2000s to go to Allina Health as the medical director for their Epic implementation. It was probably the most aggressive EHR implementation in the country at that time (nine hospitals, 60 clinics), and it was an incredible experience to be on the provider side and see what it takes to implement—and get physicians to adopt—an EHR system. The project eventually won the HIMSS Davies Award, and I learned a lot about change management and the culture shift required for physicians to adopt new technology. After that, I went back to McKesson where I formed an innovation group that created a real-time quality monitoring solution, and then had an opportunity to serve as the medical director for its population health and accountable care organization (ACO) analytics solutions. Prior to Spok, I joined RedBrick Health, a company that helps employers engage employees in improving their overall health and well-being. There I learned about delivering consumer-oriented solutions and using behavioral economics theories to help individuals embrace change..
What makes you most excited about your new role as CMO at Spok?
What really attracted me to Spok is the large, established base of customers. We have a solid foundation of deep healthcare experience and solutions that touch many areas of the health system. As EHRs become widely adopted, healthcare organizations are not only seeing real benefits but are also better understanding the limitations of the solutions. I think there is a tremendous opportunity at Spok to augment the EHR by serving as the backbone for care team communications and collaboration. We can help bring together the people, critical data elements, and key events and workflows that have a major impact on a patient's care experience. We can connect to sets of information in health systems and deliver what clinicians need to know when and how they need to access it. This helps care teams communicate and collaborate in a much more efficient way, and those tight care team collaborations are the essence of a successful patient experience in the new value-based models of care.
What is the biggest benefit of your medical background in the health IT world?
As a physician, I've walked in clinicians' shoes, and I know all of the stresses they face from all of the areas of their career—care model changes, quality improvement requirements, time pressures, and financial management challenges. I also understand that every physician has one or more personal areas of interest or focus for improvement in addition to providing high-quality care. An internist's priorities may be very different from those of a surgeon. It's important for health IT vendors to recognize and optimize the positive and negative impact of the technologies across the care continuum for the organization and at the level of individual users. That's one of the hats I'll wear at Spok: to help probe and drill into these questions and translate that to the solutions we deliver.
Why are you passionate about health IT?
The impact health IT can have is what makes me so passionate about it. If the right solutions are created and delivered, the impact can be felt across the country and around the world. Health IT solutions, created and delivered effectively, elevate the efficiency, coordination, and decision-making of physicians, caregivers, and families. If we do our jobs well, someone has a better experience at the hospital, a patient gets to go home a day earlier, or a loved one's outcome is improved. It's important to remember that we—the collective of people working to advance health IT—are ultimately here for patients and their families, and that's what drives me every day.