Blog
Bridging the Divide: Engaging Physicians and Nurses in Health IT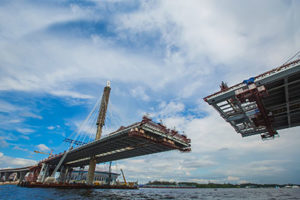 Consider this: Physicians and nurses are the most common users of health IT. Nearly 90 percent of physicians are now using an EHR. Ninety-five percent of nurses own a smartphone, and 88 percent use clinical apps during their shifts. Yet despite usage of health IT systems and mobile devices approaching universal levels, clinicians are often passive participants. They use these health IT tools, and will tell anyone who asks how they feel about them. But far too often, they don't have enough of a say in the technology that is purchased to support them and to advance patient care and safety.
Over half of the 300+ respondents to our 2017 annual mobility survey said that their organizations had stated goals to improve physician-to-physician and nurse-to-physician communications, plus an additional 43 percent said the same for nurse-to-nurse communications. However, in more cases than not, clinicians aren't involved in crafting the mobility strategy: Only 37 percent of doctors and 27 percent of nurses have a seat at that table. In my experience as a chief nursing officer and a chief clinical informatics officer, I've found the same to be true for other health IT systems and solutions: Healthcare organizations really struggle with effectively involving their clinicians in health IT decisions.
This can be for a variety of reasons: Clinicians have limited time, and in the time they do have, they typically want to hear from other clinicians. It becomes even more important to plan how to engage them ahead of any IT decisions. One thing all clinicians care about is patient safety, and a great way to get them more involved in health IT is to integrate health IT efforts into patient safety initiatives.
The Bipartisan Policy Center recently released a report entitled "Patient Safety and Information Technology: Improving Information Technology's Role in Providing Safer Care." The report explores the intersection of patient safety and health IT, and provides a framework for organizations implementing health IT that "protects patient safety and promotes innovation." This framework is fantastic, and I thought I could build upon it with some practical tips for how to apply the outlined five principles in practice at your organization.
1. Health IT Safety Should be Integrated into Broader Patient Safety Efforts
Hospitals and health systems often have teams dedicated to patient safety initiatives: Reducing mortality rates, medical errors, response times; improving compliance with The Joint Commission and other accreditation organizations; and boosting HCAHPS scores. Think about how health IT initiatives can be aligned and integrated with these ongoing patient safety efforts. The two shouldn't occur in tandem in silos, but instead, one can help inform the other. Review the makeup of these teams at your organization and determine how to best keep them in sync: Perhaps you have a few members who actively participate on both teams and report back, or you schedule a recurring meeting for the teams to meet and discuss progress on initiatives.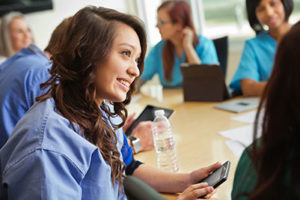 2. Patient Safety Efforts Should Address the Entire Health IT Life Cycle
"Health IT safety and the safe use of health IT depend on how the technology is designed, customized, implemented, used, and integrated into workflows," the Bipartisan Policy Center report states. It cannot be overstated that health IT and patient safety initiatives are both ongoing efforts. You may go through many life cycles, but the bigger initiative will go on indefinitely. A perfect example of this is the EHR. Most hospitals have had theirs for over a decade, yet we'll never be done optimizing them. Any action made on the EHR, or any health IT solution, could have a potential impact on patient safety. It's critical for both doctors and nurses to be involved on even seemingly simple adjustments, like moving the placement of a button, as there may be effects on patient safety unforeseen by nonclinical team members.
3. Patient Safety is a Shared Responsibility
The report states that improving patient safety with health IT is a shared responsibility among developers and implementers of health IT (read: vendors and internal IT teams) and clinical users. Both Spok research and my own experience illustrate that hospital IT teams lead health IT initiatives and they are responsible for engaging physicians and nurses. I don't mean sending an email and seeing who's interested in helping with a new health IT project. It's critical to get key groups of clinicians engaged from the very start. Fully understanding the need for the health IT solution and its potential impact on patient safety is vital to gaining buy-in from physicians and nurses, and counting on them to be actively involved. Of course, clinicians are incredibly busy, but if you can share enough information to make them feel involved and understand the effect on patient safety and what's in it for them they will care. It goes a long way to explain either how this technology helps them, or alternatively, why it hurts them and/or patients not to use it. It also helps if you can be as considerate of their schedules tending to patients as possible. For example, you might have two different meetings on the same topic to accommodate clinicians on different shifts. Additionally, it never hurts to offer refreshments!
4. A Non-Punitive, Learning Systems Approach Will Drive Improvement
Did you know that most medical errors do not result from individual recklessness or the actions of a particular group? The landmark Institute of Medicine report, "To Err is Human: Building a Safer Health System," estimated that perhaps as many 98,000 people die in hospitals each year as a result of medical errors, which can largely be attributed to faulty systems, processes, and conditions that lead people to make mistakes or fail to prevent them. The 2017 Bipartisan Policy Center report/health IT framework calls for a "non-punitive, learning system approach toward health IT safety." If someone notices something within the technology itself or within the workflow that is not safe or adversely affecting patient safety, how can they safely report that, without fear of liability, at your organization? Providing an easy way for clinicians to voluntarily report information on patient safety events gives you more feedback and data to work with—and that's better for everyone.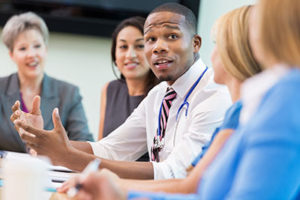 5. Health IT Safety Approaches Should be Evidence-Based and Data-Driven
Gathering as much data as possible from your doctors and nurses using health IT is a perfect segue into the final principle of the framework: Health IT safety approaches should be data-driven. This means that decisions aren't made without the data to back them up. When clinicians are involved, you are going to get many fervent anecdotes about why the organization needs to do something about a particular health IT solution. That's a great start, don't get me wrong—they're engaged, and they've spoken up. However, go a layer deeper: What's the data behind that recounting they shared? How can you obtain data that can ensure your standards, best practices, methods, and other tools are evidence-based?
I encourage everyone to read the full report this blog builds on, and to get involved in better aligning health IT and patient safety efforts at your organization. What is the status quo on that front at your organization, and how do you think it can be improved? How can I help? Feel free to connect with me via email or LinkedIn. When it comes to health IT and patient safety, we're all in this together.